Amy Lowell is a Massachusetts poet. She loved the return of lilacs to New England in the spring and wrote a beautiful poem about it. I love lilacs, too. My grandmother had a lilac bush in her back yard. They were beautiful and smelled heavenly.
I tried yet another experiment this weekend: lilac soap. Who better to name a New England lilac soap after than Amy Lowell? I had intended to try swirling two colors for the first time, but things didn't quite work out as I had planned.
Ingredients:
8 oz. olive oil
8 oz. coconut oil
12 oz. palm oil
12 oz. coconut oil
13.2 oz. distilled water
5.472 oz. lye
4 T lilac fragrance oil
2 T alkanet powder
Right about Tuesday of this week, I measured out two tablespoons of alkanet powder and 4 oz. of olive oil into a plastic container, stirred well, and put a lid on the container. I put the alkanet and olive oil infusion in a dark cabinet. I took it out today to use with my lilac swirl soap, intending to make two small batches of soap in different colors. I mixed the oils for each of the colors at the same time, measuring out half of the required amount. I put the infused olive oil in my colored bowl so I could remember which batch was supposed to be colored. In case you were wondering, yes, the alkanet infusion stained the plastic, but it didn't bother me much because I wasn't trying to prevent staining. If you use colorants and don't want to stain your plastic, just use a glass jar for infusing instead.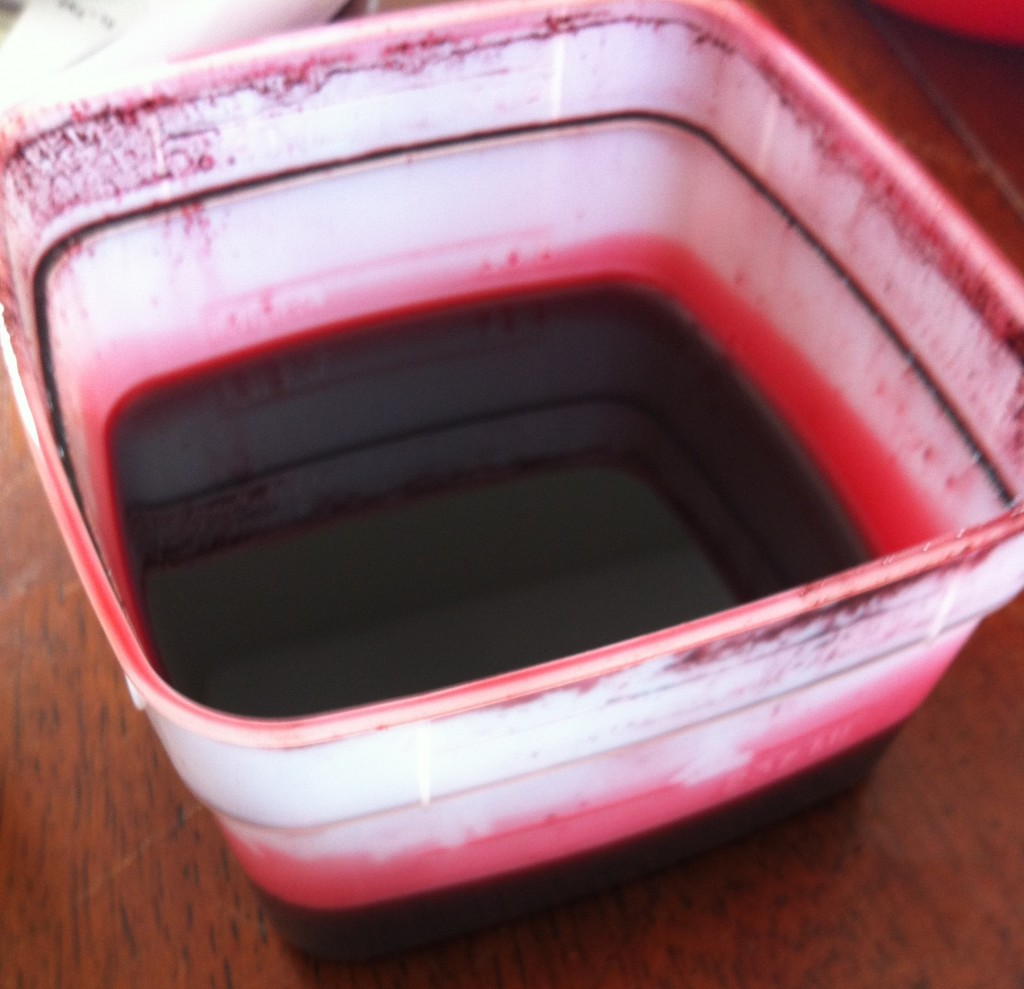 It was a little scary to clean up afterward. Perhaps it might be best after all just to use something you can dispose of, like a pickle jar.
I had problems with my lye being too hot again, and this time, I was just using distilled water. The common denominator seems to be the lye, which is a new brand. I think I just won't buy it again once I've used it up. It's too much of a hassle to put my lye in an ice bath every single time I want to make soap. I would expect it when I'm making milk-based soaps, but not water. The lye I bought from Bramble Berry the first time I made soap costs about the same amount, even factoring in shipping, so I will just be ordering it from them.
I mixed the batch without the alkanet first so that I wouldn't mix colorant from the hand blender into the light mix. I poured 2 T of lilac fragrance oil into each small batch of soap. The trace was too thick when I tried to pour the soap. The lilac fragrance oil accelerated the trace. At any rate, it was all I could do to spoon out globs of the soap into my mold before it hardened too much to use. I had no idea what I was going to get when I cut it open, but I think that's true whether you spoon it out or swirl it, especially the first time. I just smashed it into mold as quickly as I could and hoped when I cut it the next day all would be well.
Well, I can say this: it could have been worse. I at least have usable soap, even though it isn't very pretty.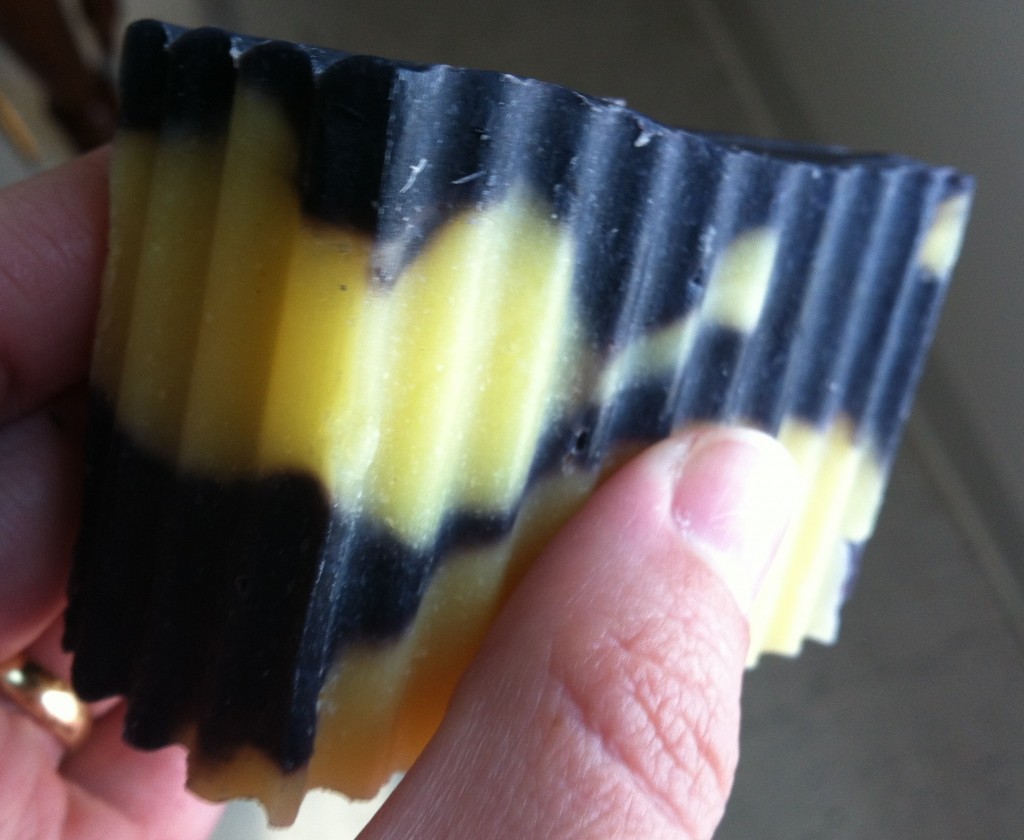 Where to begin? Well, the light color is really not very pretty at all, and I suspect that its yellowish tinge comes from the shea butter I used. It actually looks prettier in these photos than it does in person. Trust me. It's kind of a gross yellow.
Given that the color isn't very pretty, I wish I had just colored the whole batch purple. Live and learn. As a result of trying to do too much (swirl, in this case), I wound up having the soap seize up on me, and I desperately shoved the soap into the mold, but pockets formed where there was no soap, and it was really ugly when I cut the bars.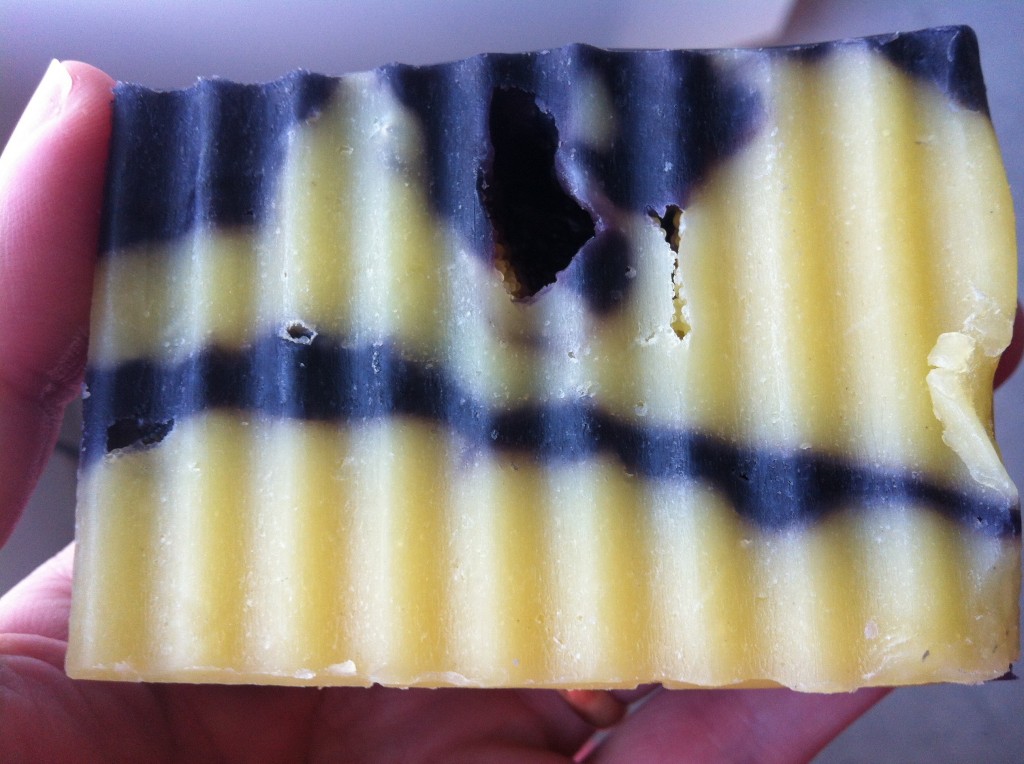 I suppose everyone has a batch of soap seize up on them at least once, but at least now I know that working with the lilac fragrance oil is going to be tricky, and I will need to bring my temperatures down a little to slow down the time it takes to trace and add the fragrance at a lighter trace. I also learned that swirling is really hard with floral fragrance like lilac, so I may just need to make the soap one solid purple color instead.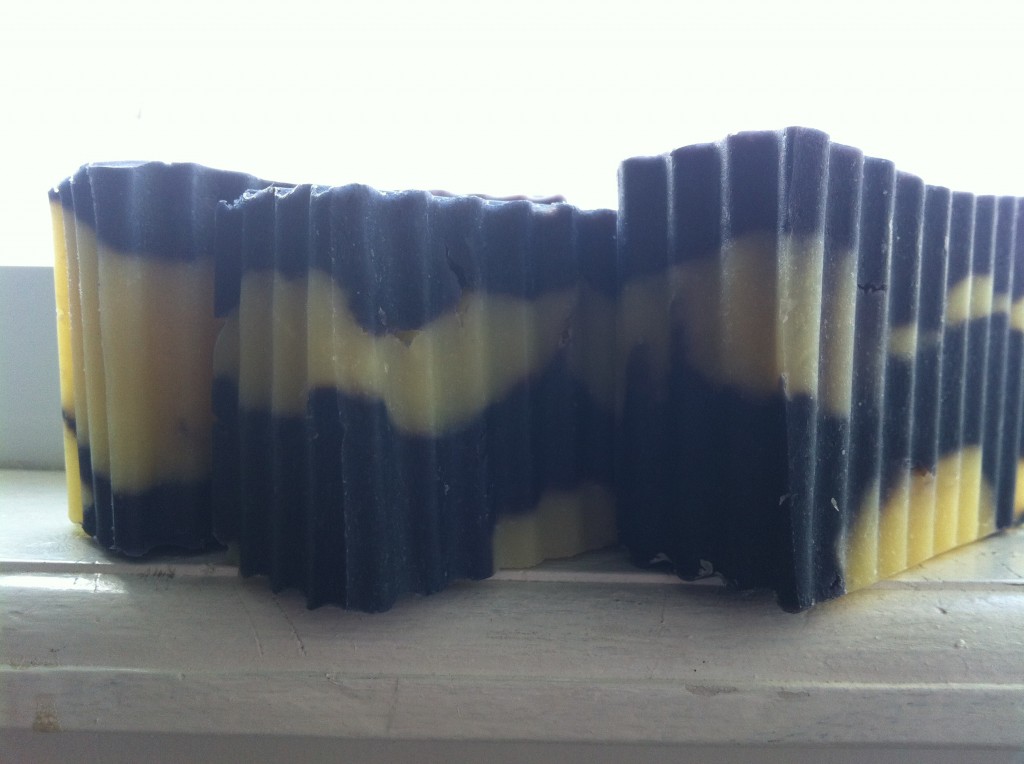 I also had some problems with soda ash, which is probably because it seized up, and I wasn't able to put it to bed as soon as I should have. I had to cut the bars down quite a bit to make them somewhat presentable, as most of them had air pockets on the sides where the soap globs didn't mash together well.
The soap smells heavenly, just like my grandmother's lilacs, and I tried lathering up with some of the cuttings as a test. The lather is smooth and creamy. The soap has cosmetic issues to be sure, but it is something that could be used, even if I don't think I could give it away or sell it (unless I discounted it like those outlet stores do with clothes that have something wrong with them).
I'm sorry, Amy! Next time your soap will be worthy of your name!
Amy Lowell's Lilac Soap by Dana Huff is licensed under a Creative Commons Attribution-NonCommercial 3.0 Unported License.
Permissions beyond the scope of this license may be available at Suds Life: About.