I've been trying for some time to swirl two colors together with no success, but I finally did it!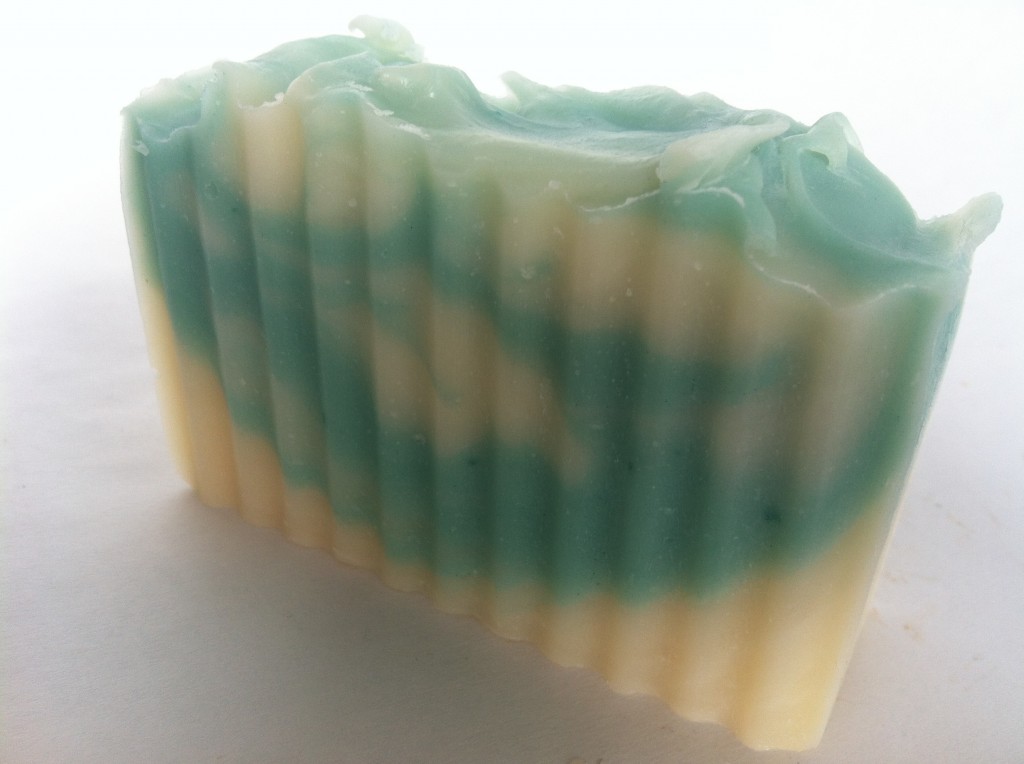 I created this soap because I didn't have enough lemongrass essential oil to make a second batch of Lemongrass Sage today. Lemongrass Sage has turned out to be my most popular soap. I sold out of the supply I brought to a recent craft fair at my school, and I have sold several bars of it over this Thanksgiving weekend. I have to admit, it's a great soap, and I use it myself on my face.
At a loss as to what type of soap to make, I decided to try something new. I had a coconut lime verbena scent I had been meaning to try, and I had some green colorant left over from making the Cucumber Yogurt batch (as it turns out, I needed to use a lot more colorant to make the soap look greenish), so I decided to try swirling again.
Ingredients:
30% olive oil
25% coconut oil
25% palm oil
10% avocado oil
5% cocoa butter
5% castor oil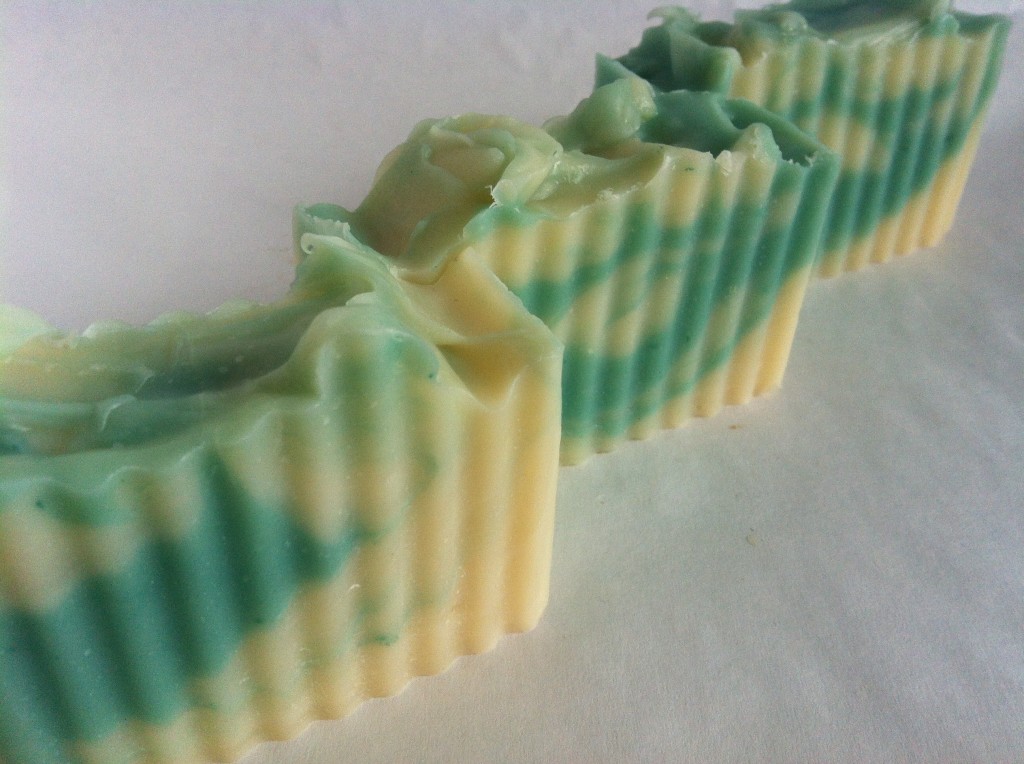 I started to use yogurt as a base when it occurred to me I should try coconut milk instead because of the coconut lime verbena scent. I knew I wanted the white part of the soap to be as white as possible without using titanium dioxide (I don't have any). My shea butter is raw, unrefined shea butter, and it has a yellow cast that makes my white soaps a more yellow shade of cream. The cocoa butter I have is white, and I noticed when I used it to make the Vanilla Sugar Cane soap that the soap batter was much whiter than normal, though because of the vanillin in the fragrance I used, the soap later turned a browner color. So, I decided to use cocoa butter in this recipe when I usually use shea. On a whim, I also decided on avocado oil instead of sweet almond or a full 40% olive oil. No particular reason aside from wanting to experiment. Avocado oil is good for people with sensitive skin, and it has vitamins A, D, and E.
I mixed the oils with the coconut milk and lye, added the fragrance, and divided the batch in half. I colored one half. By the time I had the colored portion ready, the white portion had already reached the consistency of very thick pudding, or perhaps mashed potatoes like I make them (whipped potatoes, really). I started to lament a little bit, thinking of my Amy Lowell Lilac Soap, when I remembered a swirling technique I learned on YouTube:
The swirling technique Celine described saved my soap! I think it turned out gorgeous. It smells heavenly. I can't wait to try it with another kind of soap. One of the interesting things about swirling is that each time the soap is different. Each individual bar is different. You just don't know what you will get. I'm very pleased with how the soap turned out.
The soap is beautiful, and I love the coconut lime scent. I'm also proud of the way the soap itself turned out with the coconut milk base. I admit I was excited about the idea when I remembered I had some frozen coconut milk I could use.
Coconut Lime Verbena by Dana Huff is licensed under a Creative Commons Attribution-NonCommercial 3.0 Unported License.
Permissions beyond the scope of this license may be available at Suds Life: About.