Over the last few months, I feel I have grown as a soapmaker. I owe a lot of this growth to the helpful people on the Soap Making Forum and more specifically, to Celine Blacow of iamhandmade.com. Celine is gracious enough to create video tutorials of her soapmaking process, and I think I have learned more techniques from her than from just about any other book or tutorial I've found.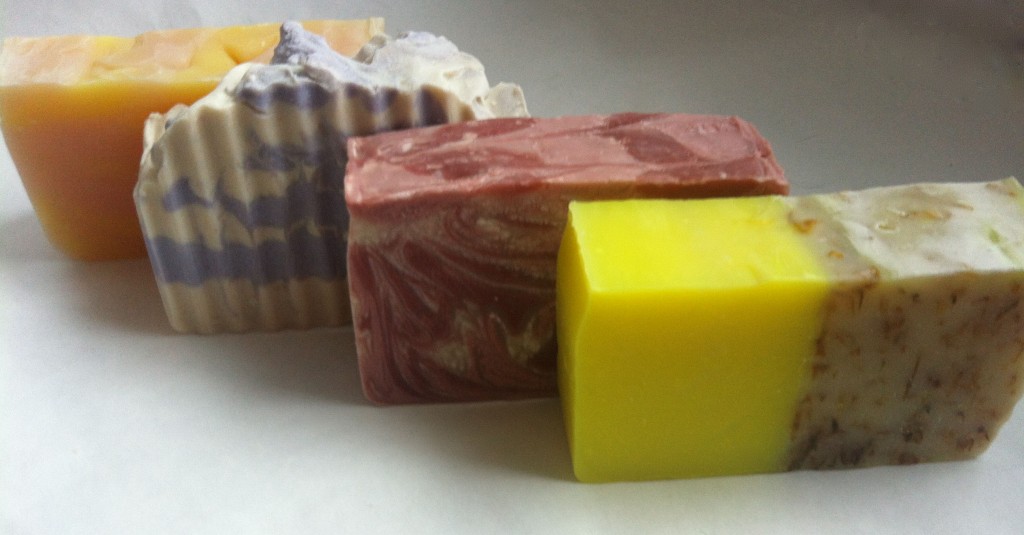 For me, soapmaking is art, especially the kind Celine makes. I am growing to consider myself an artist. When I initially chose to use the word "artisan" to describe my soaps, I did it more out of a feeling that soapmaking was a craft, and artisans were craftsmen. Soapmaking is a craft, but it is a thing of beauty for its own sake, too. The great thing about soap, however, is that it's art meant to be consumed and appreciated not just for its appearance, but also for what it does for your skin and how it smells.
I start with a fragrance I want to use. When shopping for handmade soap, the first thing I do is pick it up and smell it, and I have noticed others do the same thing. In fact, I have sold soap better when customers can smell it. The kind of fragrance I plan to use often influences my choice of oils and whether I would use water or milk. For instance, when I made my Coconut Lime Verbena soap, I was influenced to use coconut milk by the name of the fragrance.
After I've decided on a fragrance, I carefully consider what type of oils to use in my recipe. If I am after a certain feel or a certain color, I try to balance oils that will give me the desired results and are a good balance of conditioning and cleansing and will lather up well. I have a go-to set of favorite oils and butters that includes olive oil, coconut oil, palm oil, castor oil, shea butter, cocoa butter, sweet almond oil, and avocado oil. I have never used all of these oils and butters at once, but I rarely stray outside this list when formulating my recipes. Lately, I'm finding I really enjoy using cocoa butter in my soap, and I'm becoming a fan of sweet almond oil and avocado oil, too. However, I recently tried sunflower seed oil in my Emma soap (pictured above—the yellow and cream colored soap with calendula flowers named for Emma Woodhouse in Jane Austen's Emma). It isn't cured yet, but I wanted to use it because the soap is such a sunny soap that it needed a sunflower oil in it. Incidentally, I'm thinking about calling that soap "Matchmaker," but I haven't made up my mind yet.
Finally, I think about color. I have only really seriously begun experimenting with colorants in the last month or so, and I am so pleased with most of the soaps that have resulted. I have found that working with colors adds a level of challenge to the soaping experience. I enjoy trying to think of an appropriate palette and technique. Some fragrances seem to pair well with certain colors. For instance, my Marianne's Passion soap (pictured above behind "Emma" and named for Marianne Dashwood in Sense and Sensibility) is scented with a Black Raspberry Vanilla fragrance, and I felt tones of mauve, pink, and white would do nicely. I was happy with the resulting soap even though I wound up with some crackle (glycerin rivers), most likely because I didn't mix my titanium dioxide well enough. I'm learning.
My most recent soap (made just this evening and currently in the freezer) is an Anjou Pear Blossom soap. I decided on coconut milk as a base, but I discovered I'm all out, so I used buttermilk instead. I'll be curious to see how the soap comes out because I haven't tried buttermilk before. I decided that the best color scheme might be white, green, yellow, and a yellowish-green. I used a tiger-stripe swirl I learned from Celine Blacow that basically involves pouring stripes of soap down the middle the mold in layers, one on top of the other, until the soap is used.
I used the same technique recently with a Valentine soap I made just for friends and family, colored in two shades of pink and white and scented with a fragrance dupe of Victoria's Secret's Bombshell. The scent is described as "succulent purple passion fruit, burgundy Tuscan grapes, sun-kissed yellow peonies, fragrant vanilla orchids, and just a hint of fresh greenery." Smells heavenly, and the soap turned out gorgeous.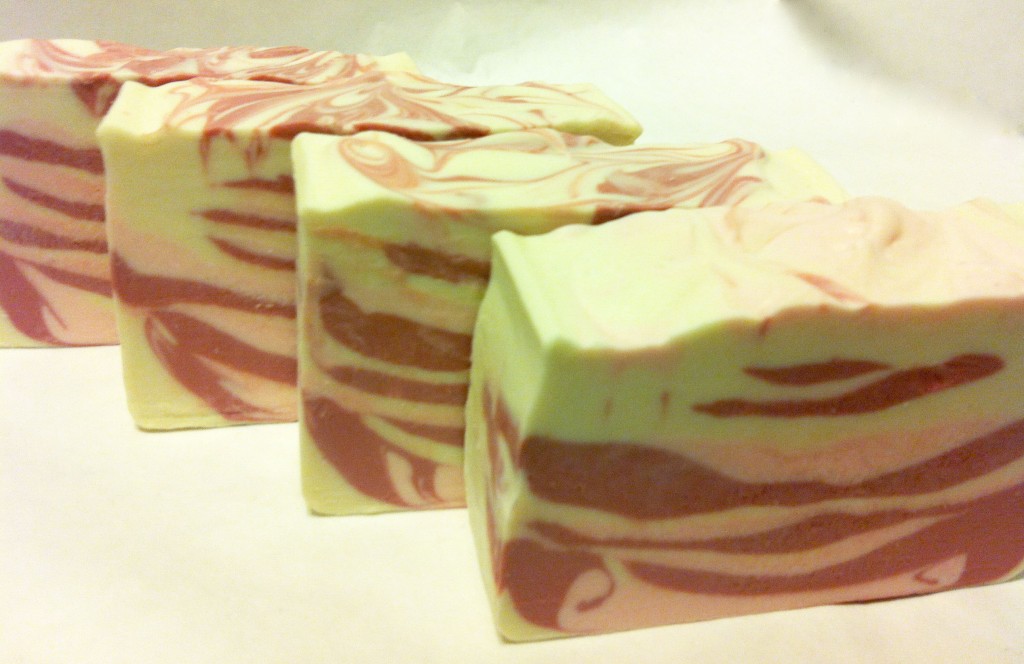 I usually gel my soaps, but I really wanted to make sure the titanium dioxide behaved, and I had read that if you do not gel, it seems to prevent the kind of crackle I had with Marianne's Passion. Sure enough, I think the white does look better, although I have learned that if I do not gel, I need to be extremely patient about cutting the soap. I can usually cut as soon as twelve hours after making a gelled soap, but ungelled soap is still too soft to cut. In fact, I learned that I need to leave it in the freezer for 24 hours, then let it sit in the mold another day, and I think I could still wait at least one more day to cut after that. Possibly more.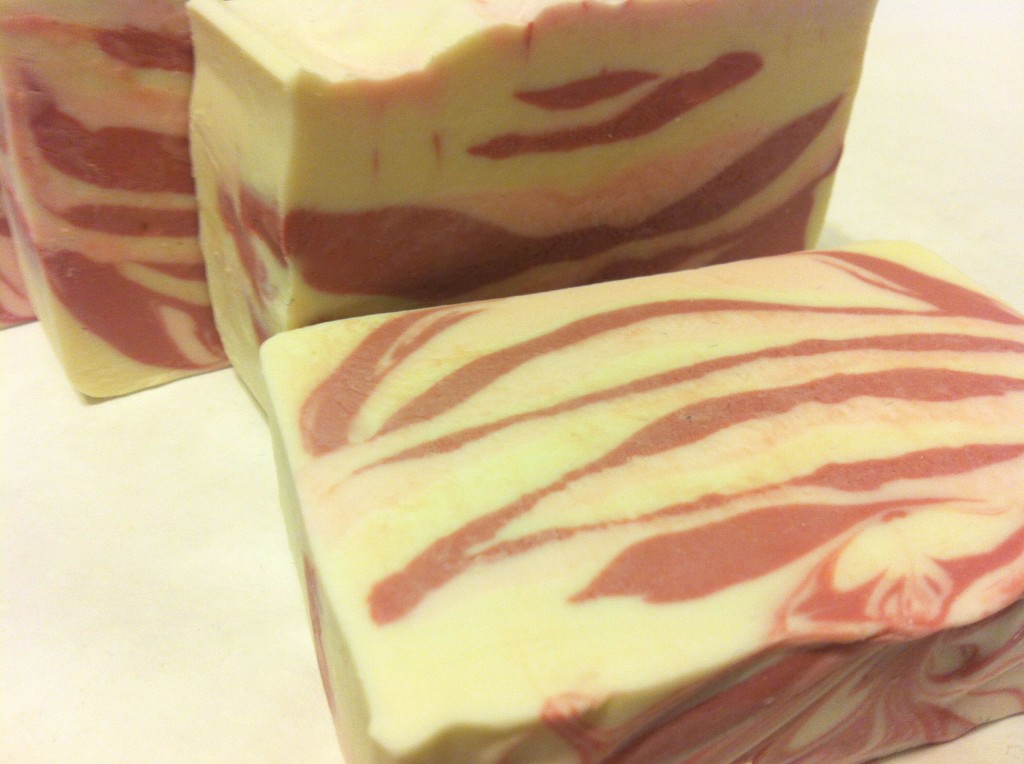 My lack of patience accounts for a little bit of the lighter pink streaks you may be able to see on the darker pink.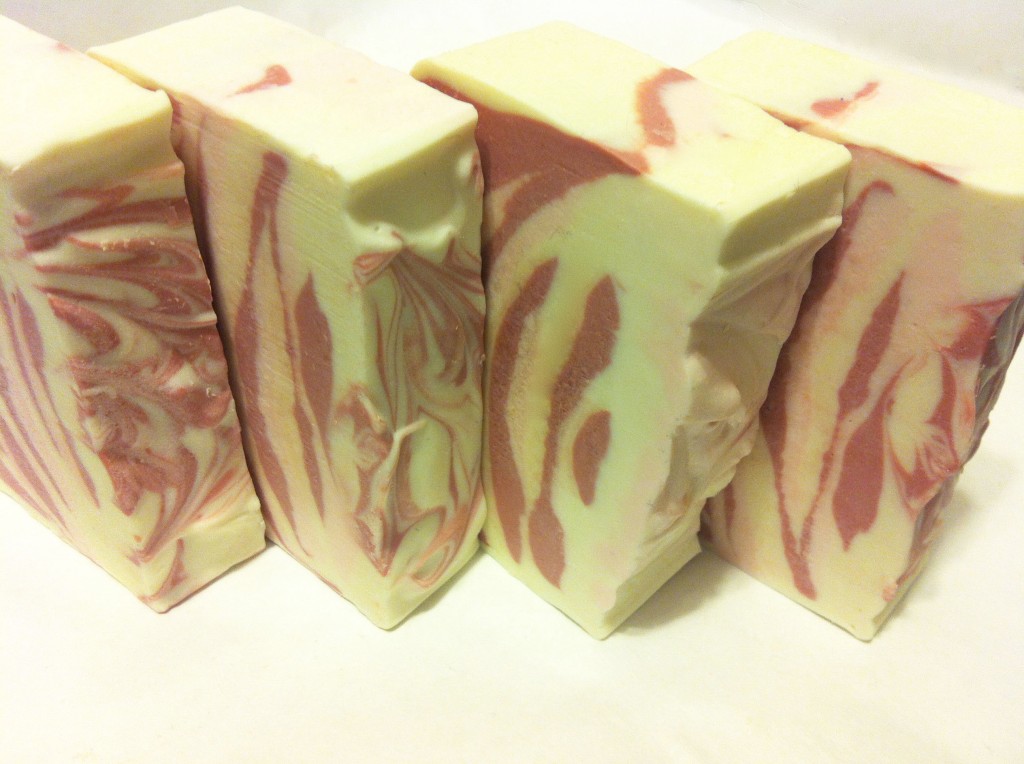 Still, I did better than with my batch of Elinor (still trying to decide if that name will stick, or if I will get more creative with it—of course, inspired by Elinor Dashwood of Sense and Sensibility).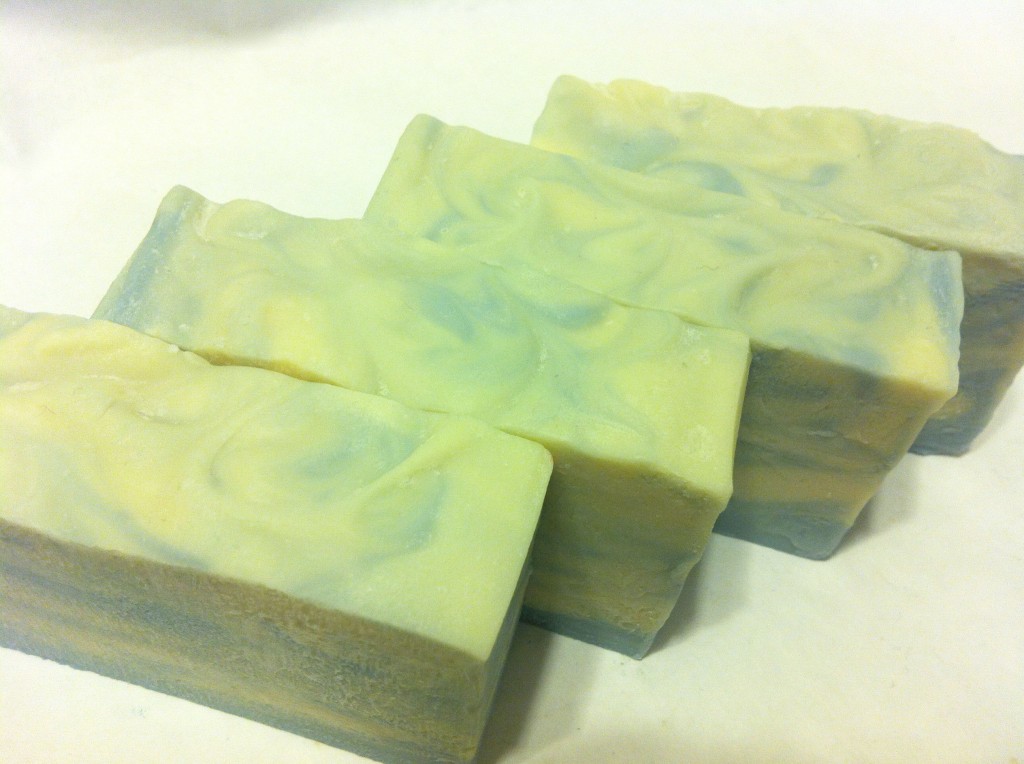 The blue and cream swirl turned out pretty. I used an in-the-pot swirl and poured a layer of the blue in the mold before swirling.
Unfortunately, I unmolded it and cut it too soon, so you can see the texture of the soap is a little rough. But the swirl came out nice, and I learned something important about working with ungelled soap.
My point, and I do have one after all this rambling about my recent experiments, is that as I have learned, I have grown to see making soap as an art form. Sometimes variables such as colorants, fragrances, and temperature cause the soap to turn out differently than I had planned, but in general, I find the results to be unique and interesting, and I've been happy with the recent experiments.
Most importantly, I'm starting to feel like my soaps are earning the "artisan" title I somewhat prematurely gave them when I started.