I bought a new soap cutter (it's fabulous!), and I have been having too much fun making new soaps.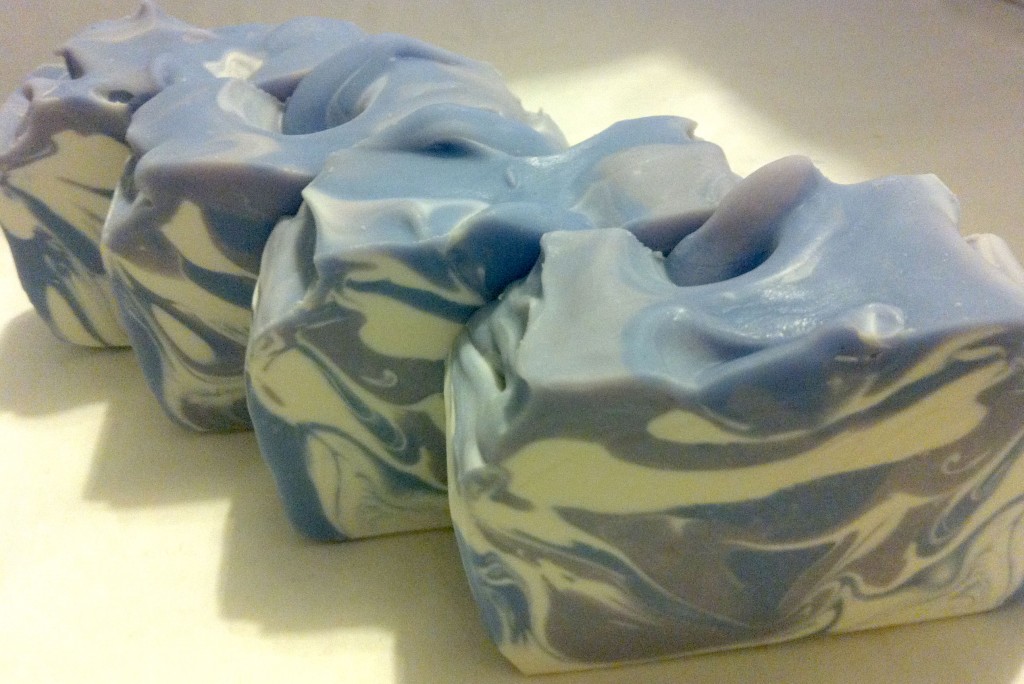 Lavender spearmint might be my new favorite. It smells divine (a mix of lavender essential oils and spearmint fragrance). I love lavender, but somehow, this soap smells better with the addition of spearmint. My theory is that the spearmint complements and anchors the lavender.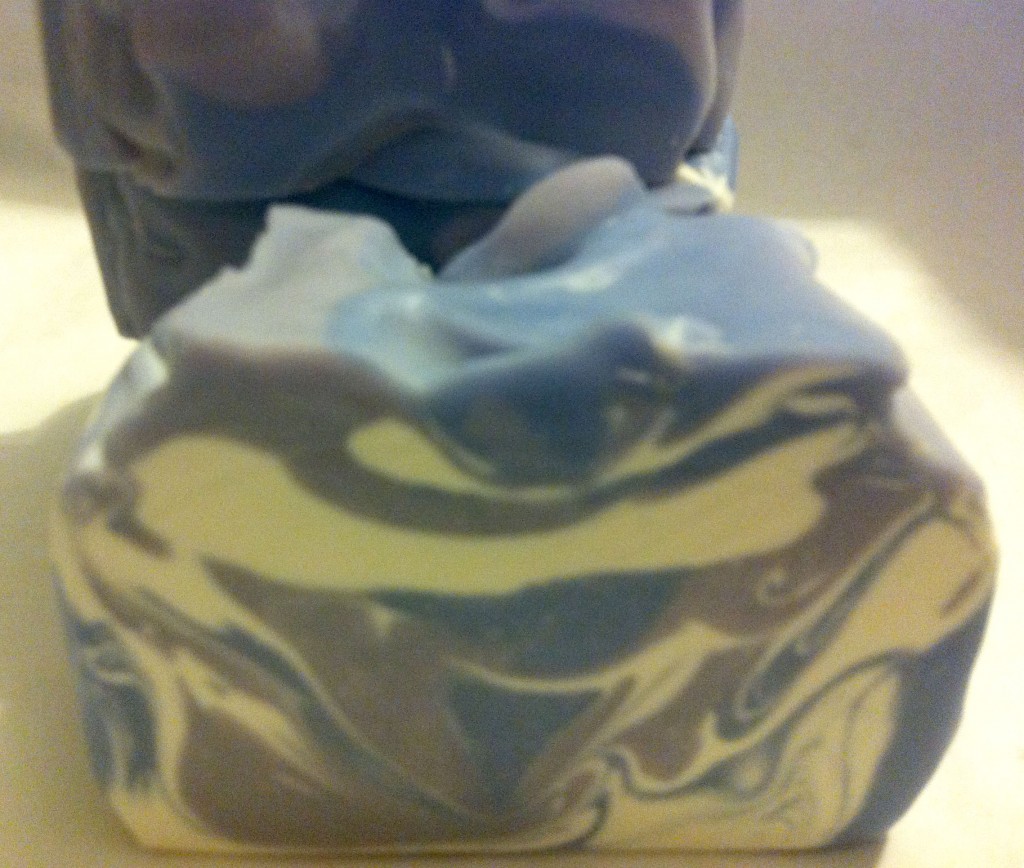 Look at those swirls! I used a drop-swirl technique. I poured a layer of white soap in the mold, then held the purple high over the mold so that it would penetrate the white layer. I repeated with the other purple. Then I spooned another layer of white into the mold and repeated the process. I like this technique and used it again tonight in a soap I made.
I like how this one came out. I decided to call it Angel White. I wanted to create a pure white soap, but I couldn't resist decorating it with some pink. The fragrance I used actually temporarily turned the soap a creamy yellow color, but it turned white again. I have never had a fragrance oil do that. Sometimes fragrances discolor soaps, but it either tends to darken them over time (in the case of fragrance with vanillin), or it gives them a yellower cast that pretty much stays that way. I have never had one turn yellowish and then revert to white. It is Amazingly Grace from Nature's Garden, if you are curious. It's a great, light, clean scent, and I had no troubles with it.
I am calling this one Romeo and Juliet. I made it with a hanger swirl and scented it with Loving Spell by Nature's Garden, a scent similar to Victoria's Secret's Lovespell. I cut it too soon because I was impatient, so I wound up streaking the soap a little.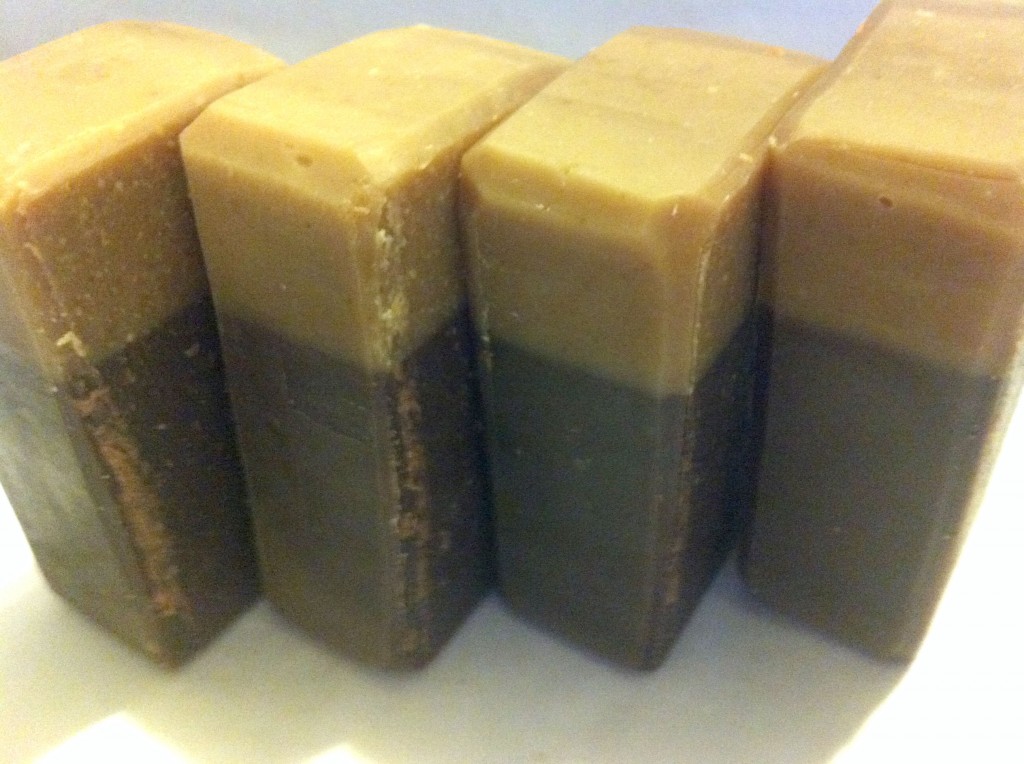 This soap is made with Guinness Extra Stout® beer and finely ground oatmeal. I scented it with a fabulous beer fragrance. Smells like the real thing!
Another soaper thought of this first, but this one reminds me of Katniss Everdeen, the "Girl on Fire." I scented it with Bramble Berry's Cranberry Fig and Yuzu fragrances. The lather is a tiny bit pink, but it turned out gorgeous. It was also my first soap made with aloe vera juice. Some soapers claim they can't tell a difference between aloe vera juice and water, but it felt different to me. It made a nice soap. I have noticed a white flaky substance develops when I mix aloe vera juice and lye. I strain it as I pour it into the oils and butters so that it doesn't wind up in the soap, but I'm curious as to why that happens.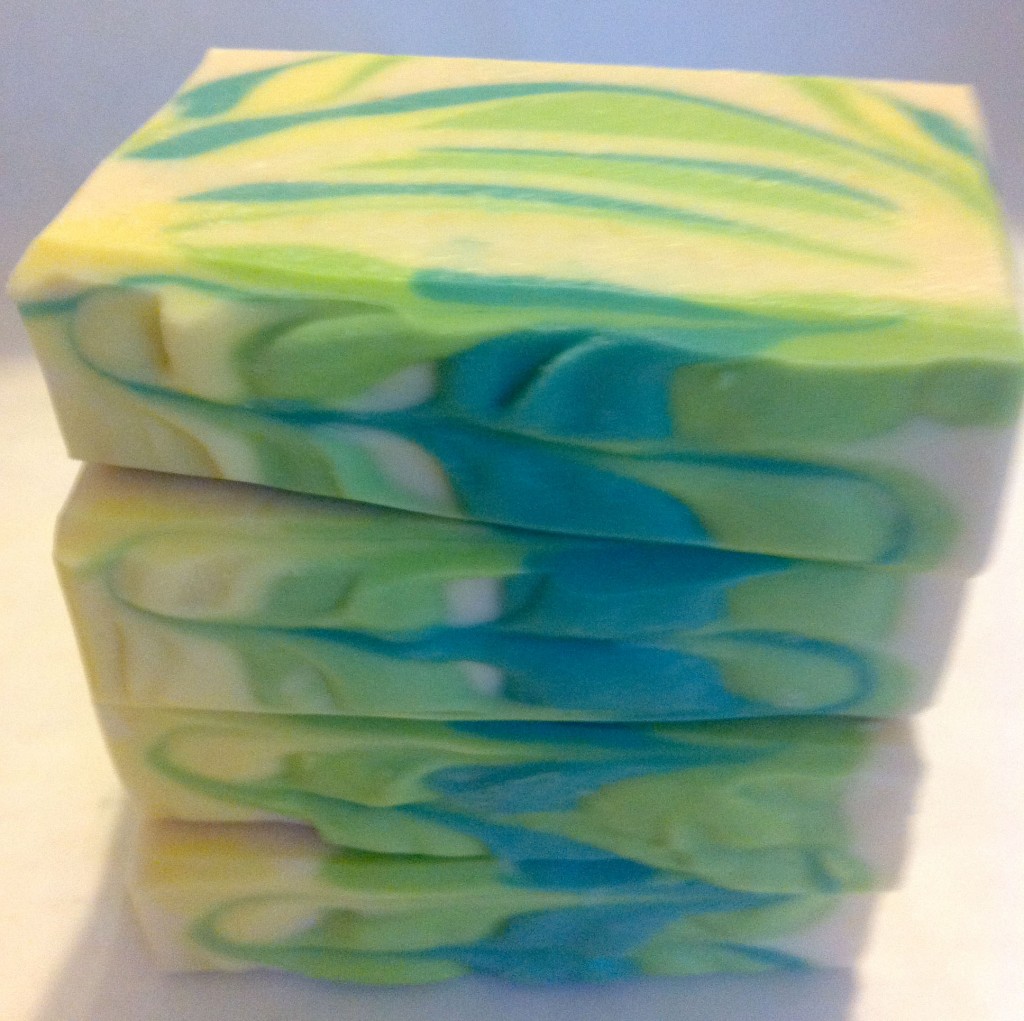 This is a tiger stripe swirl. I love how it came out. I had intended to make it with coconut milk, but I didn't realize I had run out, so I made it with buttermilk instead. The fragrance is to die for—Anjou Pear Blossom. It is one of my favorite scents of all.
I was snowed in with the great blizzard Nemo and made four batches of soap, but no pics yet. I will try to post some soon.