This weekend I made a lemongrass sage soap using my own recipe.
Ingredients
18 oz. olive oil
14 oz. coconut oil
8 oz. palm oil
5 oz. shea butter
2 oz. castor oil
15.7 oz. distilled water
7 oz. lye
2 oz. lemongrass essential oil (add at trace)
3 T sage (add at trace).
I tried a trick I read about in Heidi Corley Barto's The Natural Soap Chef and infused some of the olive oil with sage prior to using it. I'm not sure I'm going to do that again because I had a lot of trouble straining it. I know part of the problem was that I was just impatient, but unless it imparts some quality I don't know about to do it like that, it was a little more trouble than it was worth for me. I did mix the sage into a paste with the olive oil. I'm not sure if you have to do that, or what happens if you don't. I suppose you could experiment and just mix it into the soap dry to see what happens.
I had a pretty heavy trace when I added the lemongrass oil, and it really made the soap thicken up. I would recommend adding it at a lighter trace. The soap was a little difficult to pour into my mold, and you might have better luck if you add the lemongrass oil earlier than I did. I added in sage at the same time.
When I poured the soap into the mold, I decided at the last minute to try adding some decorative peaks and swirls, as I have seen other soapers do. My daughter Maggie said the resulting soap looked "deformed." That really made me laugh.
My husband has been saying the soap smells good enough to eat, and here he was laughing about the warnings in soap books about not eating the soap.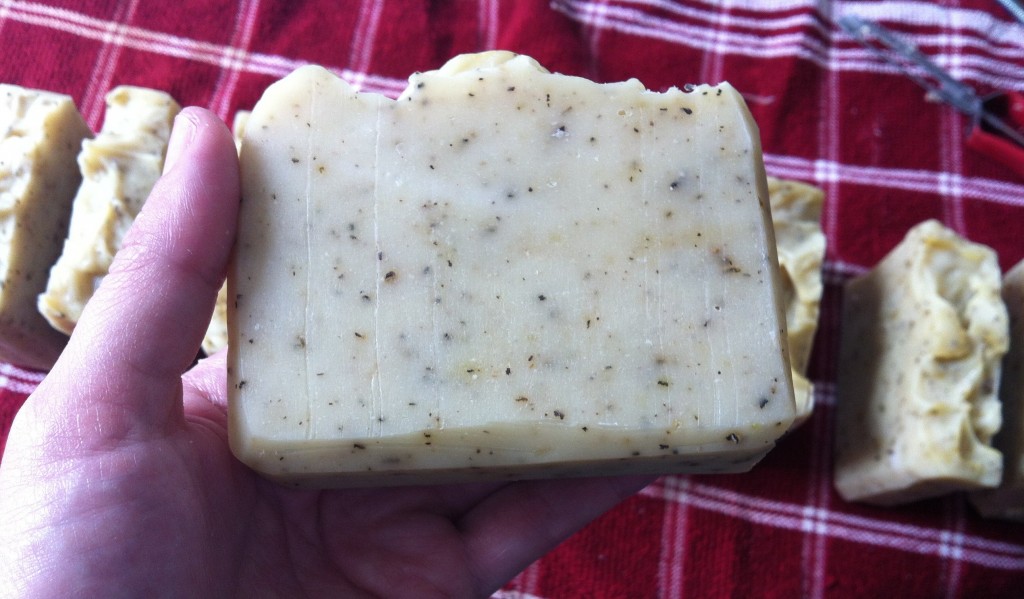 I think I could have stirred the lemongrass oil in a little better. There were some lighter colored areas in the soap, and they were not lye pockets or air bubbles. They are not watery, either, so I don't think it's an issue with separation. They are the same color the soap would be if the lemongrass oil hadn't added a yellowish tint. I think I just didn't mix the lemongrass and sage completely. Given that I did have some trouble at that stage, I think I understand how it happened and how to prevent it in my next batch. Also, I discovered that lemongrass oil doesn't like to mix well with soap, so it seems likely that I just didn't stir it enough. It was getting so thick so fast after I added the essential oil, however, that I was afraid to wait too long to pour it into the mold. Next time, I will add the oil at a lighter trace. Or I might even try a fragrance oil instead of an essential oil. The fun is in experimenting and seeing what happens! However, I should mention that lemongrass oil is supposed to be good for acne and oily skin, so that's one reason to go for the essential oil over the fragrance oil.
The soap still came out pretty enough that several of my Facebook friends who saw the picture of it that I posted requested some. Also, I have decided I like making soap enough to open an Etsy store, especially because 1) I should recoup some of the money I'm putting into it, and 2) if I make soap every weekend, I'm going to have too much, even if I give it away. But given that I have only been soaping three weeks, it will likely be months before I have enough stock to sell.
I ordered a crinkle cutter from Bramble Berry for my next batch of soap. I'm so looking forward to making the Chai Tea Soap in Heidi Corley Barto's book. The recipe is not mine to share, but I will photograph the results.
I used my husband's old shoe rack and created a soap curing rack in one of our closets.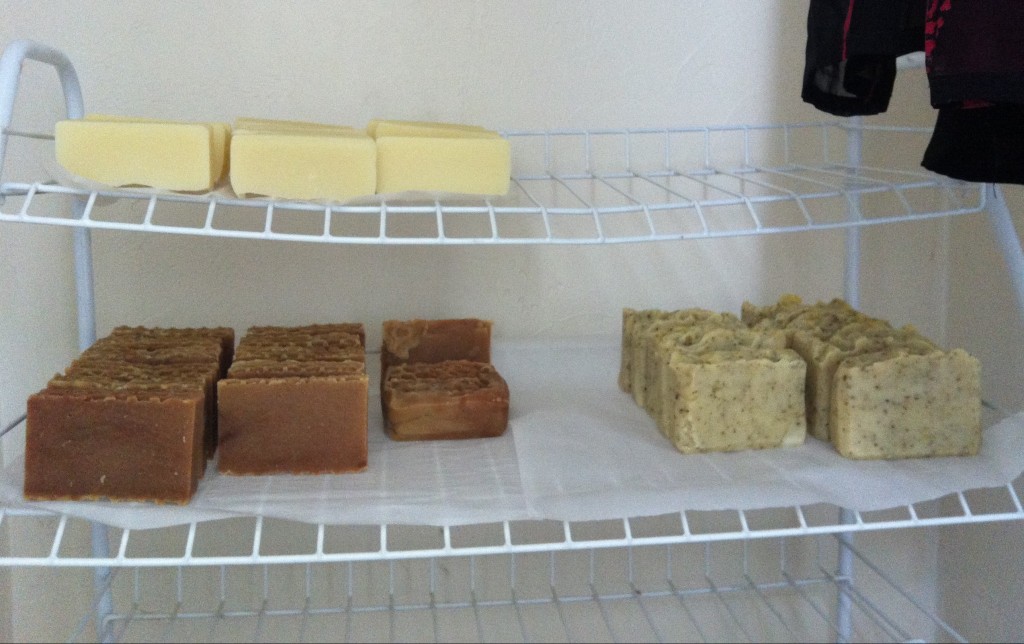 It's out of the draft and light (when the door is shut, and I'm not checking on my soap). I had the idea after seeing this amazing soap curing cabinet that another soaper's husband made for her.
Lemongrass Sage Soap by Dana Huff is licensed under a Creative Commons Attribution-NonCommercial 3.0 Unported License. Permissions beyond the scope of this license may be available at Suds Life: About.