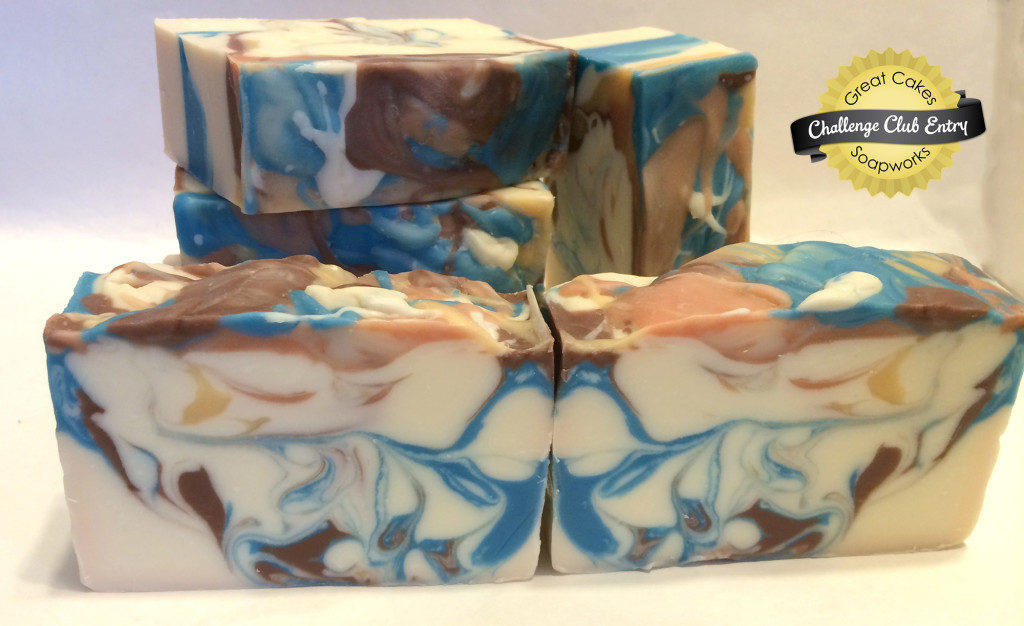 I haven't participated in the Soap Challenge Club in a long time. I really wanted a chance to try out the Butterfly Swirl, perfected (maybe invented?) by Zahida of Handmade in Florida. I don't have a deep mold like Zahida, but the beauty of the Butterfly Swirl is that you can get pretty decent results even with a regular mold like mine.
When I participated in the S.O.A.P. Panel last year, I tested a fragrance called Mahogany. I said at the time that it reminded me of a sexy man. You can read my thoughts about that fragrance here and here. I loved the way it smelled. I have been wanting to make a soap with a color palette similar to this: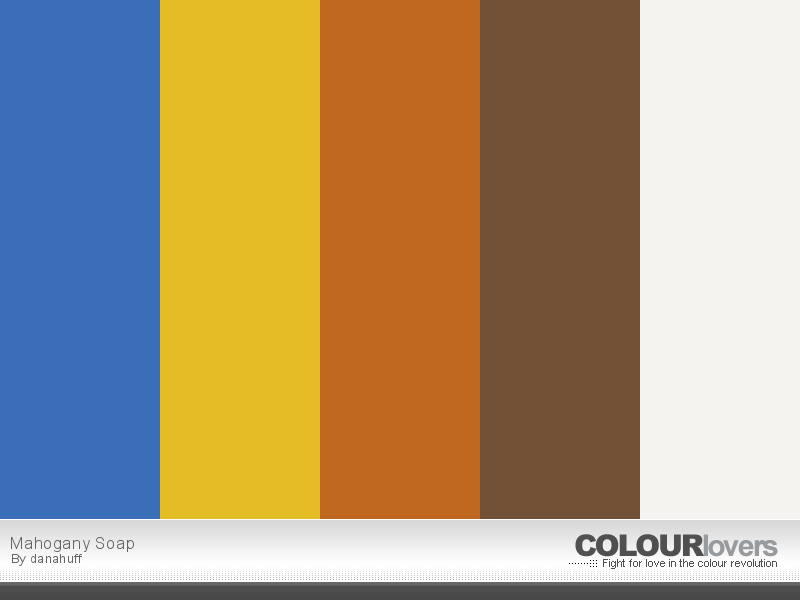 I knew I wanted to use Nurture mica. I have the Vibrance mica set and the Pastels mica set. I previously used the 24 Karat Gold mica from Rustic Escentuals in my Inspiration Soap Challenge. Even in cold process soap, it retains a lot of its sparkle. I hadn't tried Bramble Berry's Copper Sparkle mica, but after a quick check to see that it was safe for use in cold process, I decided to try it. I ordered it some time ago as part of a sample pack. I have used Bramble Berry's Cappuccino mica in several soaps in the past. I love the rich brown shade. My palette hasn't captured the exact tones of the micas, but it's close.
I recall hearing Celine say in one of her videos that one color that really pulls a soap together is white. I think she's right about that. Even if it's just a little bit of white, it really seems to bring out the design. So, in addition to the four mica colors, I also used a little bit of titanium dioxide to produce a cream color in my soap.
I decided to call the soap "Sexy Man Soap" after my first reaction to smelling the fragrance. Here is a video of the making of the soap:
I really enjoyed the entire process of making this soap. The colors are a lot of fun to work with, and the fragrance is delicious. I'm going to have to order more of it.
The more I work with micas, the more I fall in love with them. I used mainly oxides and ultramarines in the past, but micas have such beautiful hues, and even if their sparkle doesn't always come through in cold process soap, they're still lovely to work with.
This technique is interesting because it's hard to tell if what you're doing will result in a butterfly shape in the soap. I knew that working with a flatter mold like mine would give me less room to get the shape I wanted, and I was quite pleasantly surprised when I cut the soap and found several bars did indeed have a butterfly shape.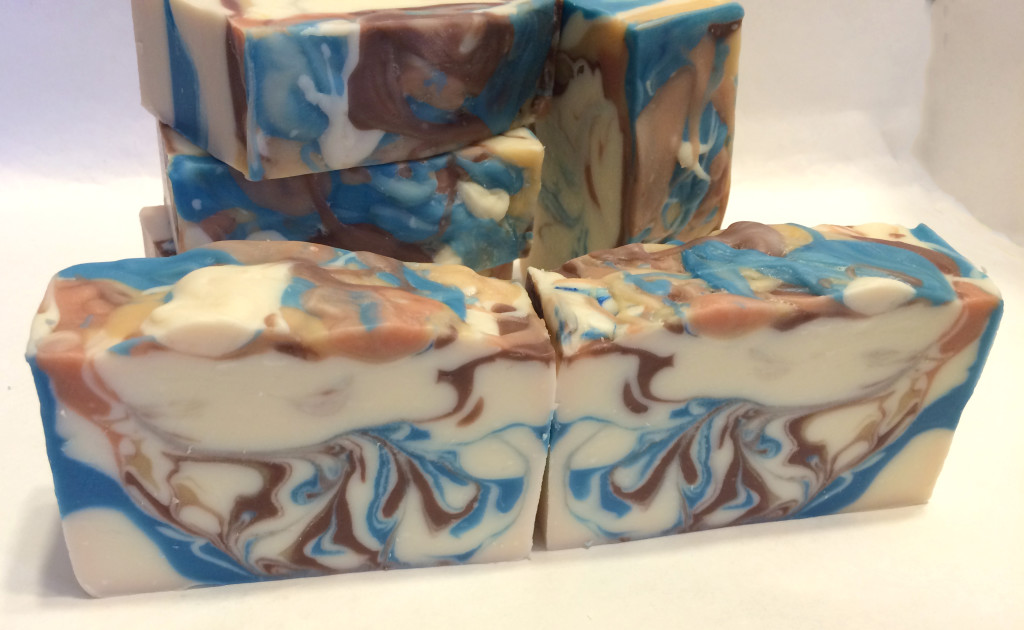 This first set has a lighter top, but I can make out the shape of wings.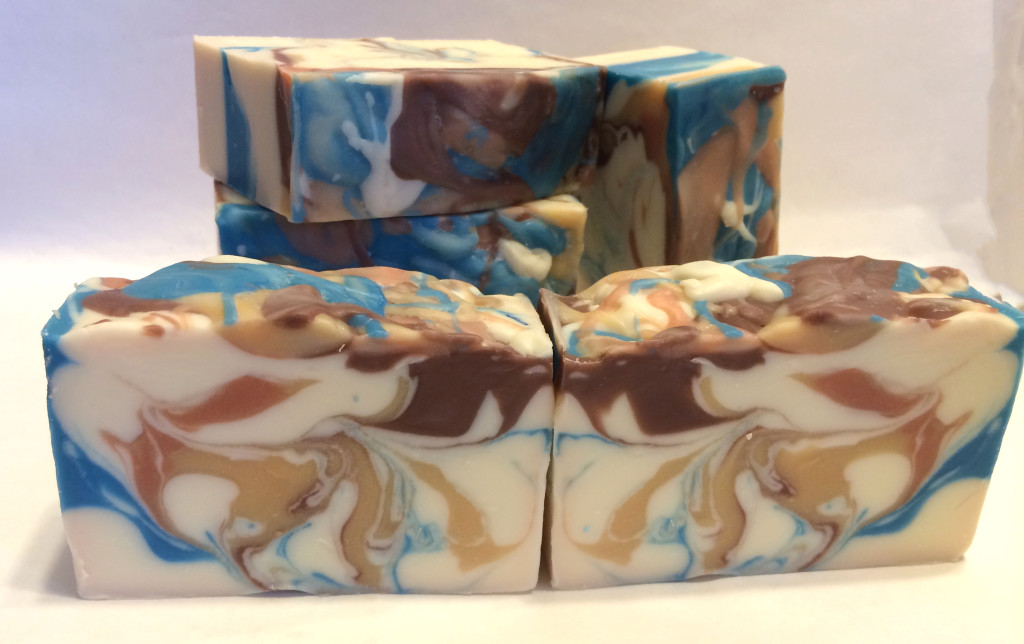 This second set has a nice shape, and more of the gold and brown show through. The blue is the outline of the wings.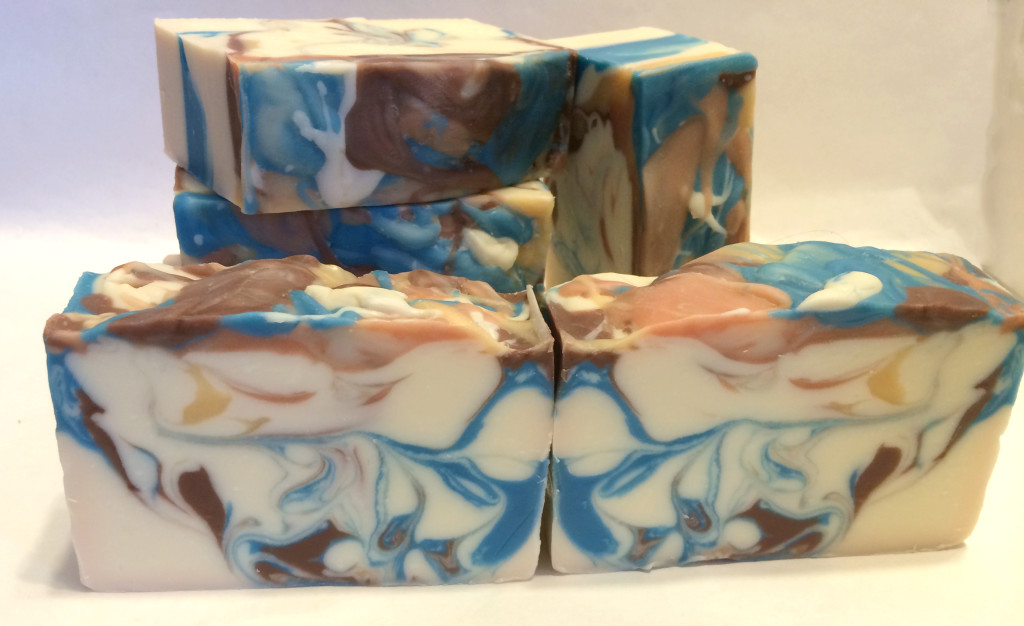 I thought this third set of soaps made the best butterfly. The brown accents look like the edges of wings, and the blue where the soaps join looks like a butterfly body. The splatter tops look like the tops of butterfly wings. It is this last picture that I will enter for the challenge contest. Don't you just love that Blue Vibrance mica?
I'm happy with how these came out. I made them for my husband Steve, and he's claiming three, but he says I can sell the rest of them in the shop. Look for them in time for Valentine's Day, in case you want to get some for your own sexy man.
You know what? It felt pretty good to make a video again after a long hiatus, too.