I have admired the way soaps made with Cambrian blue clay look for some time. Once when placing an order with one of my vendors, I decided on a whim to purchase some Australian washed blue clay, thinking it was the same thing as Cambrian blue.
As it turns out, it's not. After doing some research, I discovered that Australian washed blue clay is actually a kind of bentonite clay. I have used bentonite clay before in shaving soaps because it adds slip, but I hadn't tried it in a regular soap before. I know that it's considered to be good for acne, but I decided it was probably fine since I have used a bentonite-clay based shaving soap on my legs and suffered no dryness as a result.
I'm not sure if everyone sells Cambrian blue clay wet, but Bramble Berry does. Obviously, my Australian washed blue clay is dry. I thought it looked sort of green, but it's hard to tell with clay until you get it wet, and even then, it doesn't always look the same as it will in soap.
I decided I would experiment with it anyway because even if it turned out green, that would work just fine with my planned batch. I had decided to use the Lavender & Cedar fragrance oil that Bramble Berry sent me as a thank you for participating in the S.O.A.P. Panel last year. I haven't seen too many people talking about this fragrance in soaping circles (or perhaps I'm not looking in the right places, which is entirely probable). Bramble Berry does warn that the fragrance loses some of its camphor notes in cold process, which suits me fine. I also thought that it would work well with either a green or a blue soap, so it would be perfect for my experiment with Australian washed blue clay.
I use kaolin clay in most of my soaps because it adds silkiness and creaminess and also helps anchor fragrances so they stick better. French green clay is a staple of my Provence soap. I have used pink rose clay (a form of kaolin) to color some soaps as well, and I have used rhassoul clay in my Guinness Beer soaps. I almost always just add my clay directly to my oils and stick blend before adding my lye. I have had the fewest number of problems with mixing when I have followed this method for using clay.
Another method includes adding clay to the lye water (which you would also only do if you were coloring the soap with the clay only). I have never tried adding it to my lye water.
A third method involves making a slurry with clay and water or clay and oils. I have sometimes had clumps in my clay when I have used this last method, especially if I make a slurry and then add it to a bit of the soap, and then add the colored soap to the rest of the batch and blended as David Fisher describes here. I have had the best luck with this method if I just treat the clay like any other colorant and add the oil or water and clay slurry directly to the soap and blend. If you are doing a swirl or using other colors, it's the method to try.
Since my Lavender & Cedar soap was going to be one color, I decided to add the clay to the oils and blend. It definitely looked green, but the final test would be adding the lye water and blending. Sometimes the color of the soap lightens once the lye is blended well with the oils.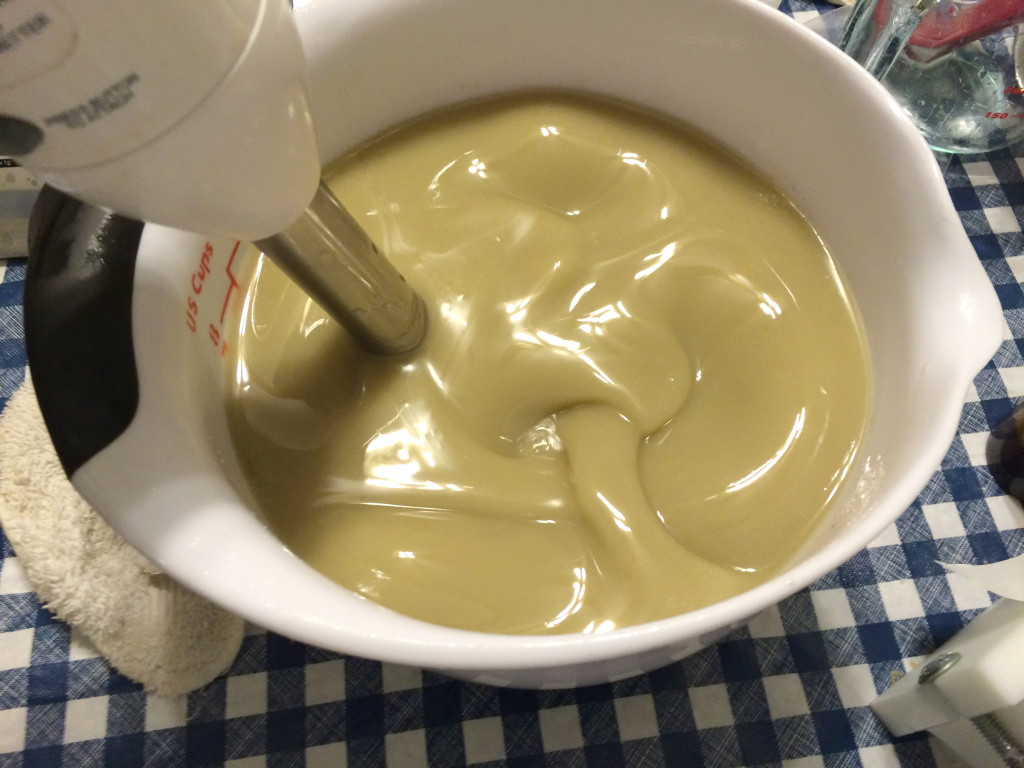 In the early blending stages, it looked a lot like French green clay to me. Once I was done blending, sure enough, it was still green.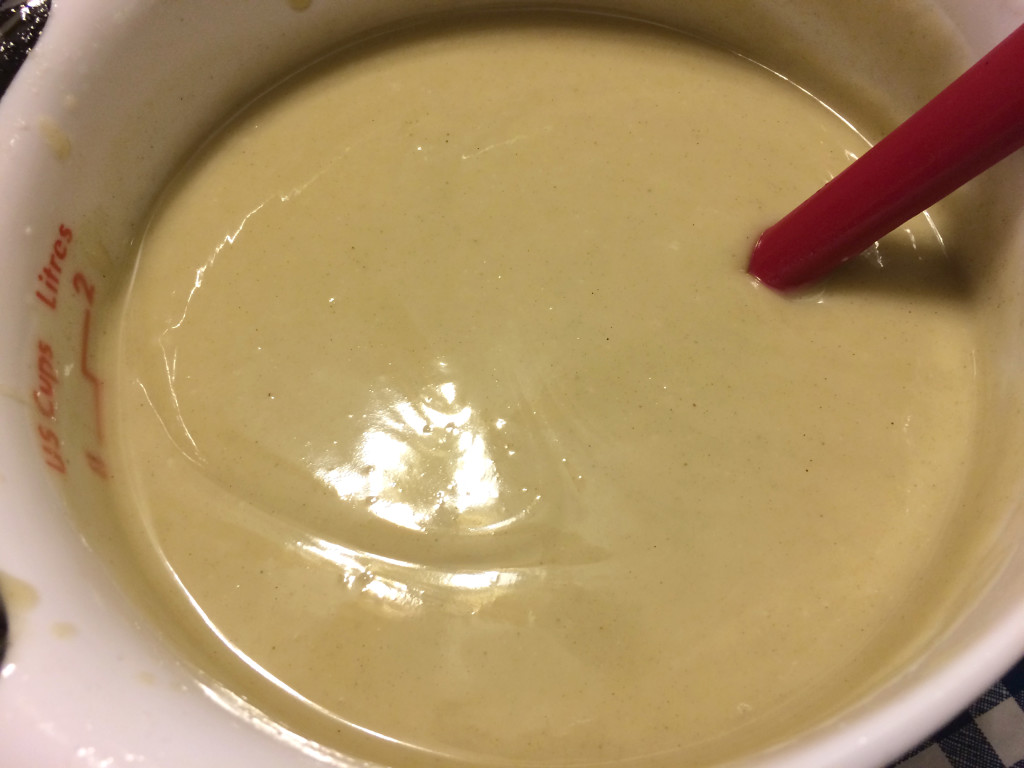 It's pretty, but it's sure not blue. I poured the soap into the mold.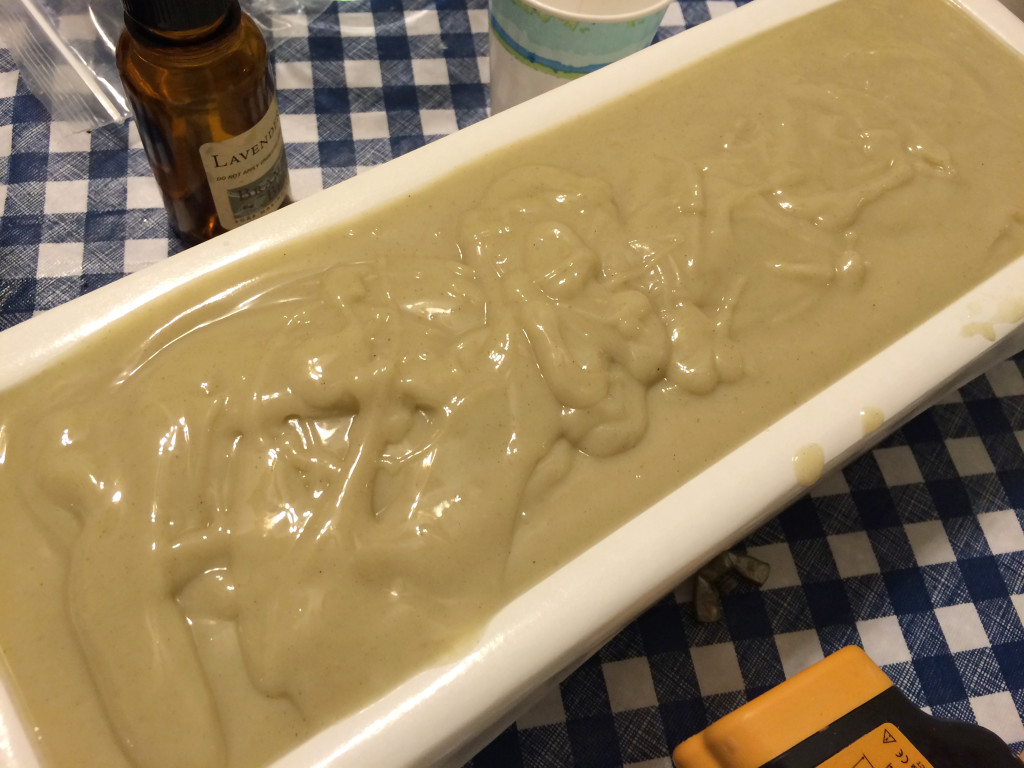 I decided to sculpt the tops a bit and add some pretty safflower petals.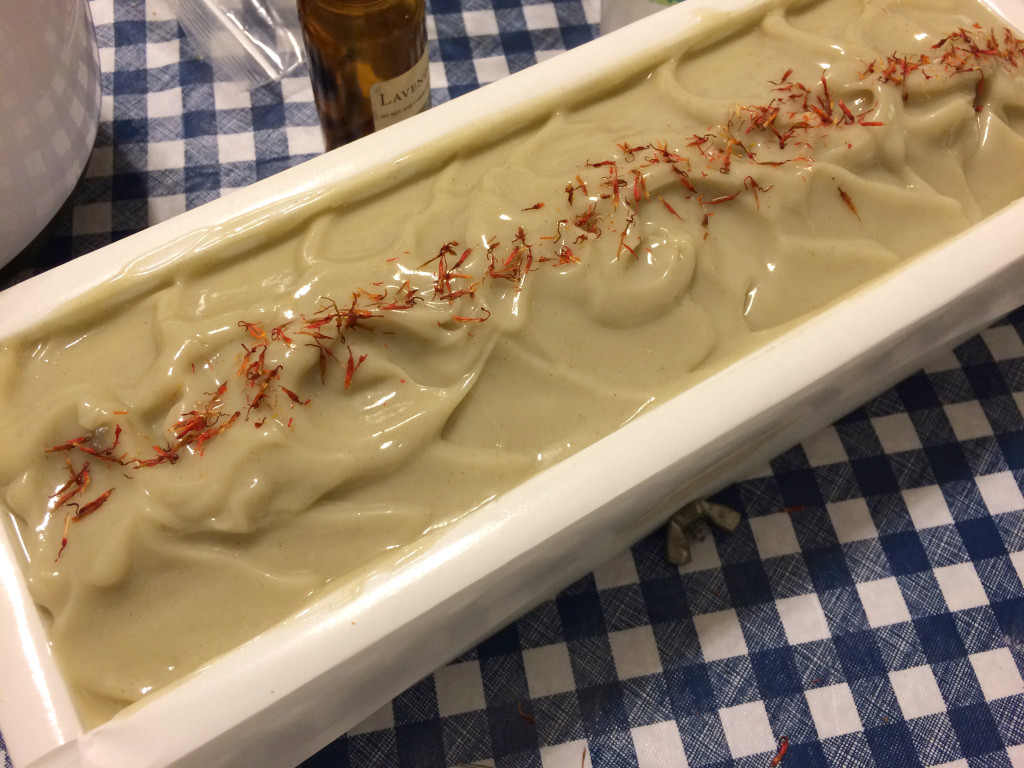 Here is a close-up:
In the close-up, you can see the soap has tiny flecks in it. Neither bentonite or French green clay does that (at least in my experience), and I really like the look of it. It's not quite the same shade as French green clay, but it's not far off. The safflower petals set it off nicely, but they would also have looked nice with a blue soap.
I would just have to wait for the unmolding and cutting to see what the soap would ultimately look like. So what happened in the end?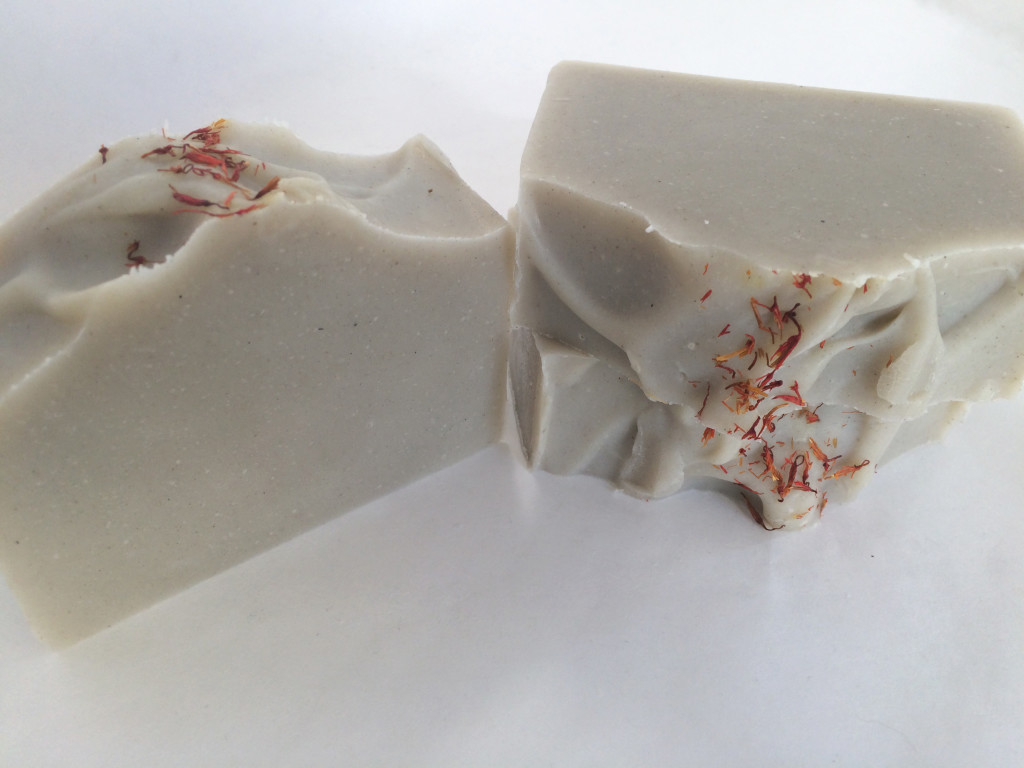 A lovely shade of green. Definitely nothing remotely close to a blue. For the record, I gelled these soaps, too, so if it were likely to morph or change color at all, it would have done so.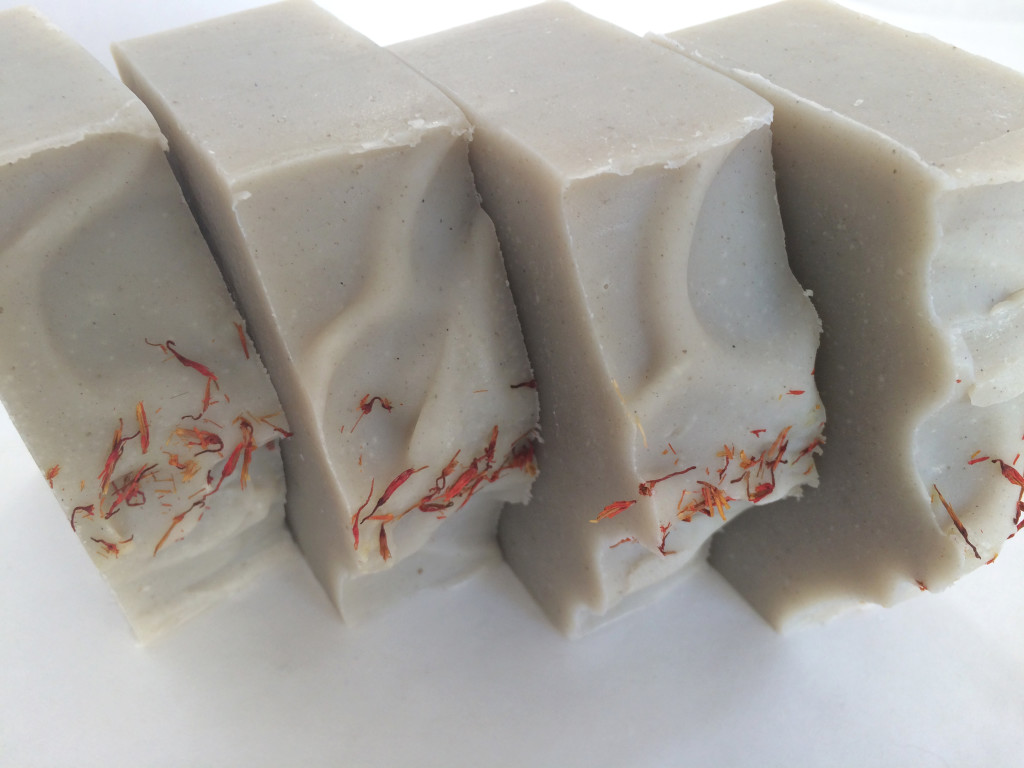 The real shame here is that you can't smell them, looking at them on your computer screen. Oh my, do they smell good. A nice scent of cedar underlaid with the floral lavender and some other more complex woodsy notes I can't quite pick out. Ultimately, I think the color is perfect for the fragrance.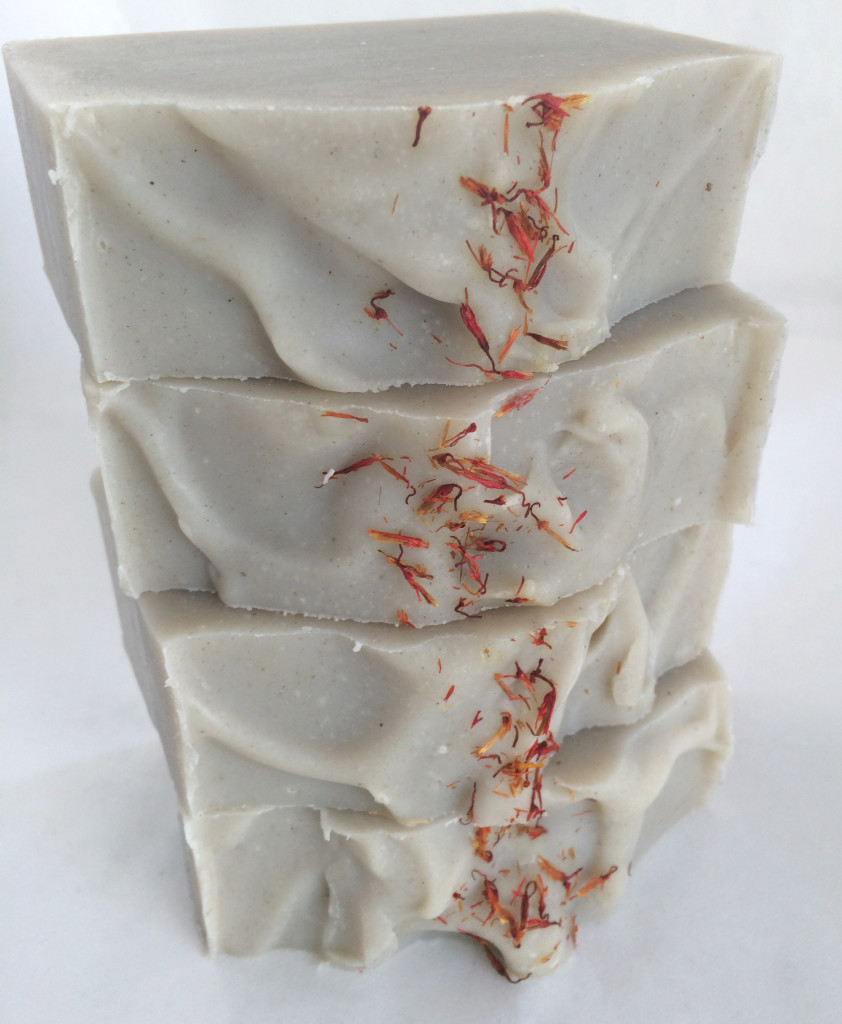 It doesn't quite look like French green clay, either. The flecks in the soap are quite pretty, and the color does look nice with the safflower petals. The soaps have a nice, silky feel.
Even though the results of my experiment were not what I had anticipated (a blue soap along the shades of a Cambrian blue clay), I'm still quite happy with them. I love the fragrance, and really hope my customers enjoy the soaps.