My nose was so wrong on this one. Initially, I said this was citrusy with a floral note and smelled summery. Yeesh. I am detecting a vague fruity smell, but I can't pinpoint what it is. Behind that is a sort of masculine, woodsy scent. It smells like it might be a dupe of some cologne, but I can't be sure which one, since I am terrible about keeping up with that sort of thing. If you'd have asked me in the 1980's, I would have known, but I had a cologne-obsessed boyfriend at the time, so I didn't have to work at it. My husband says it smells like a melon soaked in industrial cleaning fluid. After he made that comment, I sniffed again, and I can smell some sort of melon in there. I initially thought I liked this one, but the more I smelled it, the less I liked it, and by the time I was done soaping with it, I really disliked it.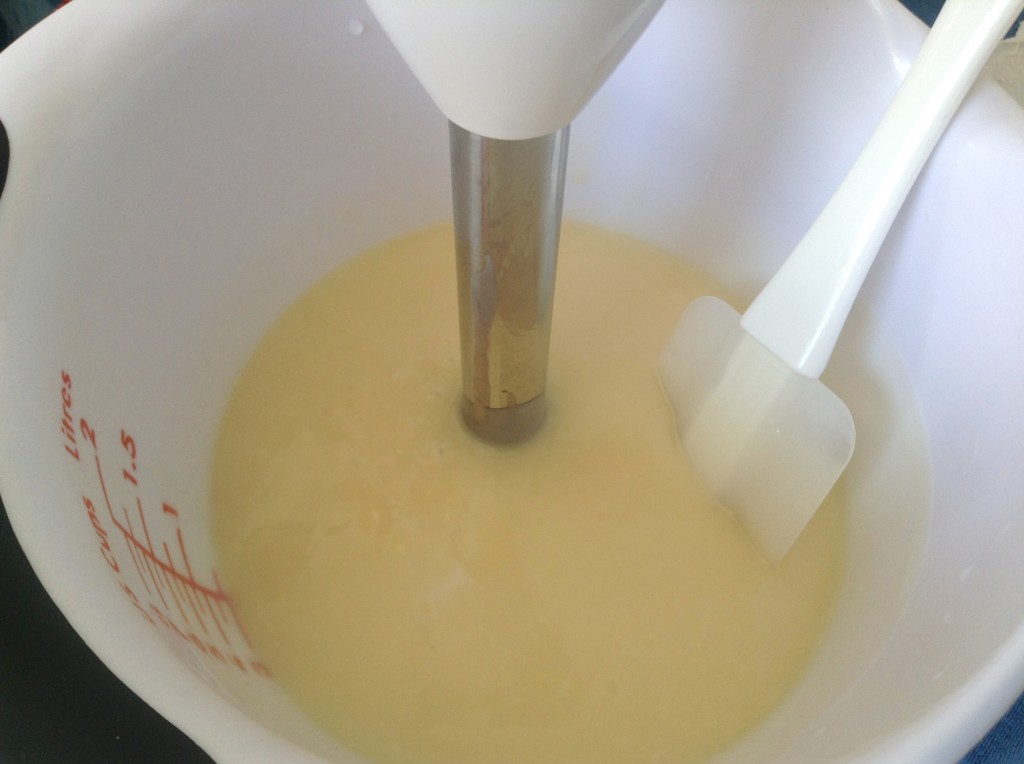 As before, I used a recipe with full water, 45% olive oil, 25% coconut oil, 25% sustainable palm oil, and 5% castor oil. I soaped with oils that were about 93 degrees and a lye solution that was about 96 degrees. I used the full bottle of fragrance, which was 25 grams.
I stick blended to a light trace, and then I added the fragrance.
The fragrance acted kind of funky in the soap. At first, it seemed to reverse trace, and it didn't seem to want to incorporate well. Then, the soap didn't rice exactly, but the consistency was strange. I stick blended it thoroughly, but it never seemed to get thicker than a thin trace.
So, I decided it pour it into the mold and put it away.
It looked fine. I sprayed it with alcohol about 30 minutes later, and it felt really hot and kind of squishy, but gelling a soap can sometimes resolve problems, so I left it alone for another 30 minutes. When I checked it again to spray it with alcohol one last time, it was in full gel, and the fragrance was weeping a bit from the sides of the mold.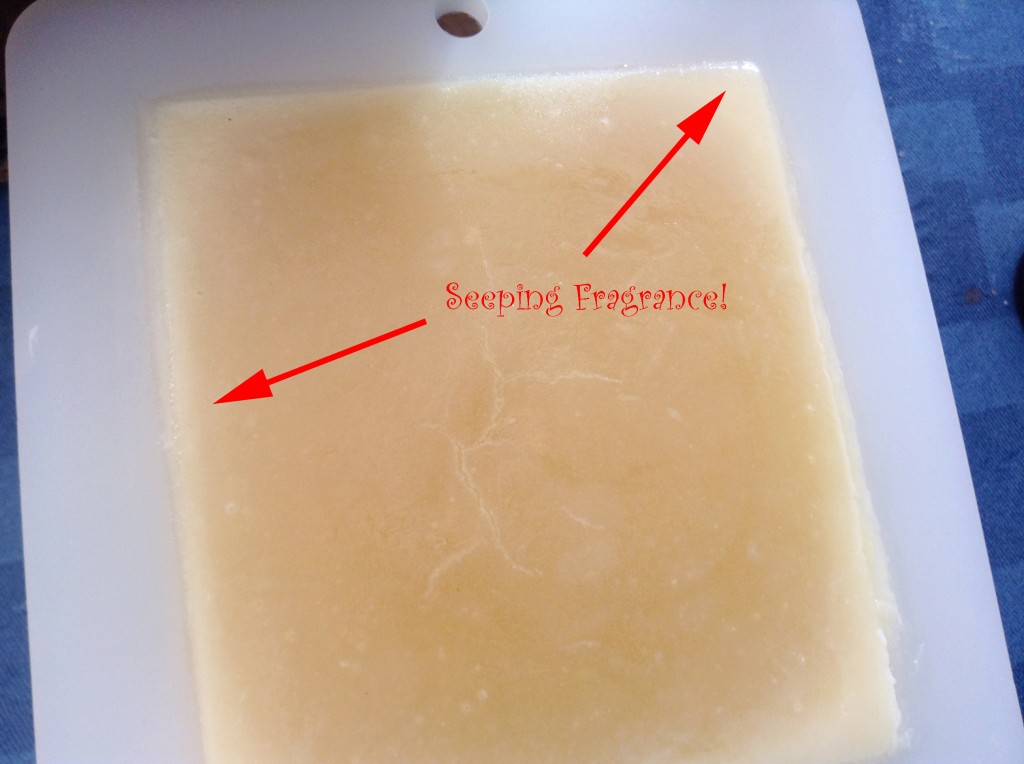 It also has a little bit of cracking on the top, but I think that was more from me squeezing the mold a bit when I handled it. Still, that is really fast for a full gel to be going on, and I didn't like the look of that weeping fragrance oil.
That was nothing. I tested it, and it was pretty much ready to unmold only hours later. This fragrance must have some crazy catalytic ingredients! It gave the surface of the soap a sort of "brainy" appearance that I've seen before when soap overheats in the mold. Remember my process was the same for making this soap as it was all the others. When I did shimmy it out of the mold, this is what I found.
The fragrance was weeping all around the parts of the soap that the mold touched. I wiped it off and let the soap dry a bit. Weeping fragrances are not necessarily terrible, and even essential oils will do it; however, it's worth noting that I didn't have this problem with fragrances #1-5.
Anyway, I cut it after a little while. It boggles my mind that the soap completely gelled and was ready cut in the spaces of less than 6 hours or so. Usually I have to wait at least 12 hours to cut.
As you can see, the soap is discolored yellow. I will monitor it to see if it continues to discolor. For the sake of comparison, here is a photo of this soap next to one made with fragrance #5, which did not discolor.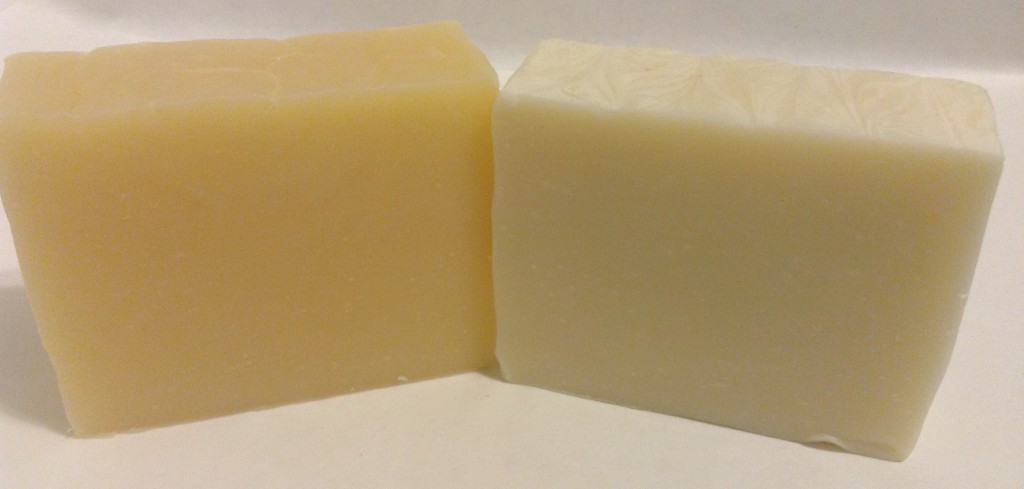 I can imagine that if this fragrance was used with a faster tracing recipe (butters, less olive, more palm), it might cause some real problems. The fragrance mellowed a bit after saponification, but I still cannot say I like the scent. It reminds me of something, but I can't think of what. It isn't pleasant, however, and I wouldn't want to use it. Sorry, Bramble Berry, this one gets two big thumbs down—doesn't smell good and is difficult to work with. I wouldn't recommend it for your product line.