I returned home from a CVS shopping run to find a package from Bramble Berry on my porch. That's funny, I thought. I didn't order anything recently [insert little sad little sob over the fact that I haven't ordered anything recently].
I opened it up, and I found these inside.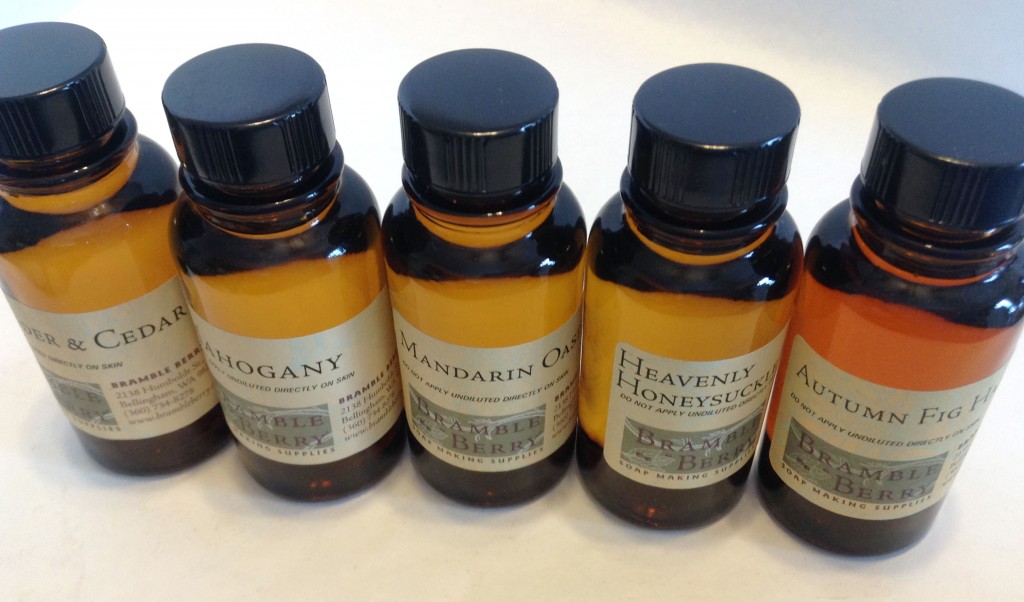 Two ounces each of five fragrances from the S. O. A. P. Panel!
Also enclosed was a very nice (and pretty) handwritten thank you card for my participation on the S. O. A. P. Panel. It was so nice and unexpected. I didn't realize Bramble Berry would be sending these along, and perhaps it's spoilery, but I thought I'd let you see this sneak peek at some of the new offerings.
My nose is apparently not so good, so I am not 100% sure I've identified these all correctly, but I'm certain that Heavenly Honeysuckle is fragrance #3 that I tested and was actually able to identify as honeysuckle at the time. After living in Georgia for nearly twenty years, I can't miss that scent. It's absolutely gorgeous, and I am so glad it made the cut.
I think that Mahogany is fragrance #8 that I said smelled like a sexy man. It does smell good, but I have no idea what mahogany is supposed to smell like. I think it will be a nice addition to Bramble Berry's masculine line, though.
I'm totally not sure about this one, but I think Autumn Fig Harvest is fragrance #1, which I also liked a lot but totally did not identify with figs. Like I even know what figs are supposed to smell like, I suppose, but I digress. I thought I smelled some sort of juniper or a pine or fir scent, which might be the "harvest" and "autumn" notes. Anyway, even if I'm wrong, Autumn Fig Harvest smells great.
Those were my top three selections from the S. O. A. P. Panel fragrances, so (if my nose is right), I'm thrilled they made it through the process.
As to the other two fragrances, I can't identify them with the ones I tried, and I wondered if they were perhaps part of the second round of S. O. A. P. Panel fragrances, in which I didn't participate. Lavender and Cedar is a pretty accurate description of what that fragrance smells like. More cedar, for sure, but with a floral note behind it. It's quite nice. Mandarin Oasis smells fruity and awesome, but I can't identify it with the fruity scents I had on my panel, so I'm not really sure.
Thanks again for the nice treat, Bramble Berry!