Last Christmas was my first experience selling handcrafted items. I learned that quite a few people really do go out of their way to support artisans. There is something special about receiving something handmade as a gift.
This year, I attempted to prepare for the season a little better. I learned some lessons. First, all of my holiday-themed soaps sold out. The two quickest sellers were Cranberry Blood Orange and Candy Cane.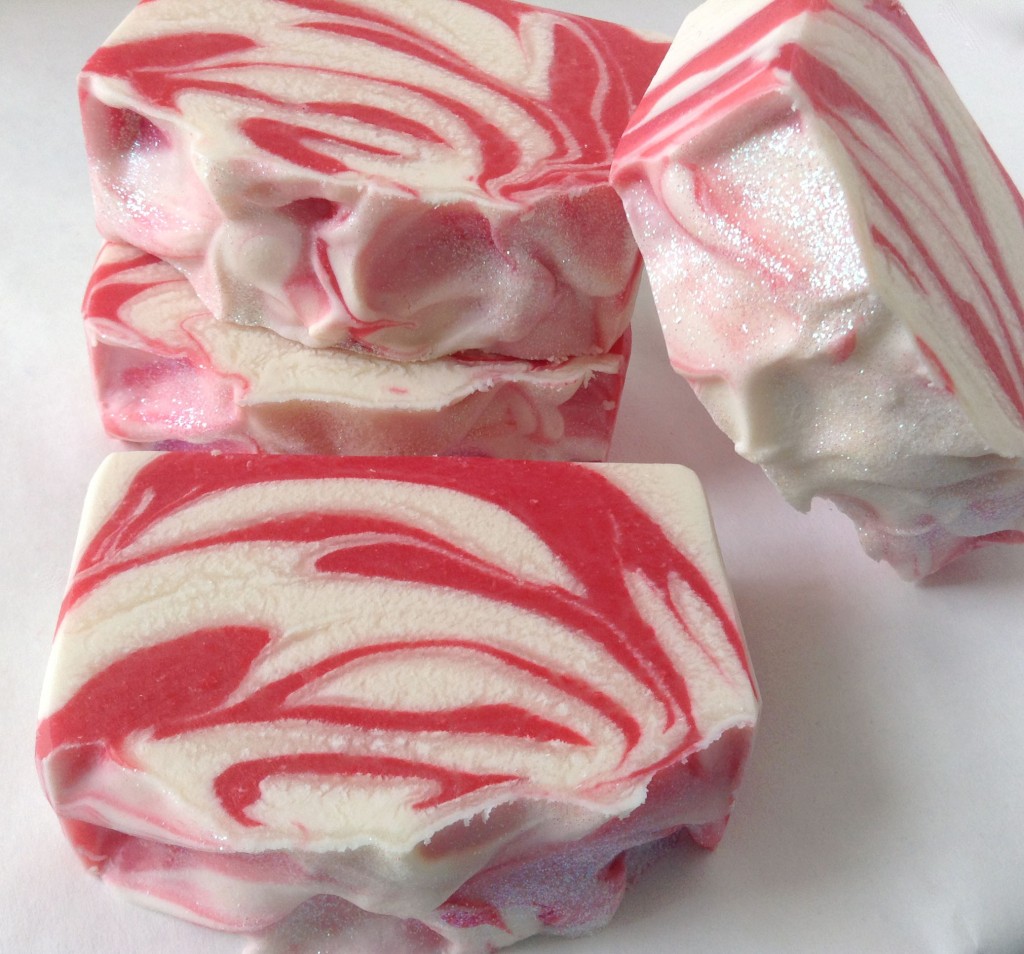 I made a note to make more batches of each next year. One thing people who don't make soap have a hard time understanding is that cold process soap must cure for at least four weeks, which means soapmakers need to figure out what is likely to sell at least a month in advance of the major selling period. For Christmas, that means soapmakers really need to have soaps ready by mid-November in order to capitalize on early shoppers. My biggest sales day was Small Business Saturday, which happened right after Thanksgiving and Black Friday, but I continued to sell right up until a few days ago.
The big question is, how many batches of each would sell? It's hard to determine what will sell in early to mid-October when the soaps must be made. It's a risk to make too much because there is a chance I might have leftover Christmas products. However, if I make too little, I might miss out on sales opportunities. It's a tough call.
Some other lessons I learned are that I move more soaps more quickly offline through purchases made by family, friends, and craft fairs. I haven't been able to do many craft fairs yet, but I am definitely interested in participating in more. I would be remiss if I did not mention I'll be selling my soap at the Alchemy Fair in Holyoke, MA, on April 26 and 27, 2014. I'm very much looking forward to that fair.
Speaking of craft fairs, another thing I learned from selling at craft fairs this season is that my Lavender Dream and Lemongrass Sage soaps sell much more quickly offline when people have a chance to smell them.
Lavender Dream is a newer soap. I used to combine the lavender essential oil with a spearmint fragrance, but I found the spearmint didn't come through with the lavender (it was fine on its own, but the lavender overpowered it). I renamed it, and folks who love lavender adored it. I also toned down one of the purple shades a bit.
Lemongrass Sage is one of my oldest recipes and has been a favorite among family and friends.
It smells very bright and clean, and for a citrus scent, lemongrass really sticks well. I'm not sure why these soaps do not sell as well on Etsy as they do in person. I have some theories, but as the first thing most people do when they're buying soap at a craft fair is sniff it, I think the scent has a great deal to do with it. On Etsy, buyers might rely more on the look of the soap, though I'm not certain that's the case.
Another soap that sold really well at craft fairs was White Tea & Ginger.
It has a very nice spicy scent. One of my friends thinks that perhaps the plainer look of the soap might be a reason it does not sell as well on Etsy as it does in person. I like the look of it and don't really want to change it, but it may be that I will make it only in advance of craft fairs rather than keep it on Etsy.
One soap sold very slowly, and I was disappointed because I knew it was a lovely soap.
If you are not familiar with anise essential oil, it smells like licorice. I realize licorice is a candy people either love or hate, but even though I'm not a fan of the taste, I love the smell. Of course, I associate it with my grandmother, who loves licorice candy (she received a bar of this soap for Christmas). I thought the black and white was striking and pretty, but I have learned that buyers do not necessarily associate black with soap, or at least the sellers I have encountered do not. My soaps with a large amount of black colorant do not seem to do as well as others. I am not sure why because I think it's striking and different. I really think this soap turned out well, and I loved it, but it sold very slowly for Christmas.
I also made a soap I called Winter Wonderland.
I used the scent in this soap in a previous soap, and I couldn't sell it! I have to believe it sold well in this soap for two reasons: 1) the look of this soap was more appealing than the look of the other soap in which I used the same fragrance, and 2) it was the holidays, so soap naturally sold more quickly. I love the scent. It's a gorgeous watery/ozone type scent that is perfect to evoke snow. I think if people could have smelled my other soap, it would have sold better. Smell seems to make such a huge difference.
One lesson I am going to take away is to pull back on what I sell on Etsy. I am charged fees for each listing, and while it's not a huge amount, it's too much to post soaps that just don't sell. I will be more judicious about new offerings in the future. It is my hope that I can start doing more craft fairs or farmer's markets as I would hate to cut back on making soap. I love it, and I'm addicted now!
I wish everyone happy holidays. I hope you find a little bar of handmade goodness in your stocking!