I'm so excited! I made a shirt and apron at Zazzle with my logo. I will have to make a new soaping video when they arrive so I can show them off!
I hope everyone is enjoying the the turning of a new year. I wanted to share a peek at some of the new soaps that will be appearing in the Etsy store this month.
First, I am in love with this Blackberry Sage.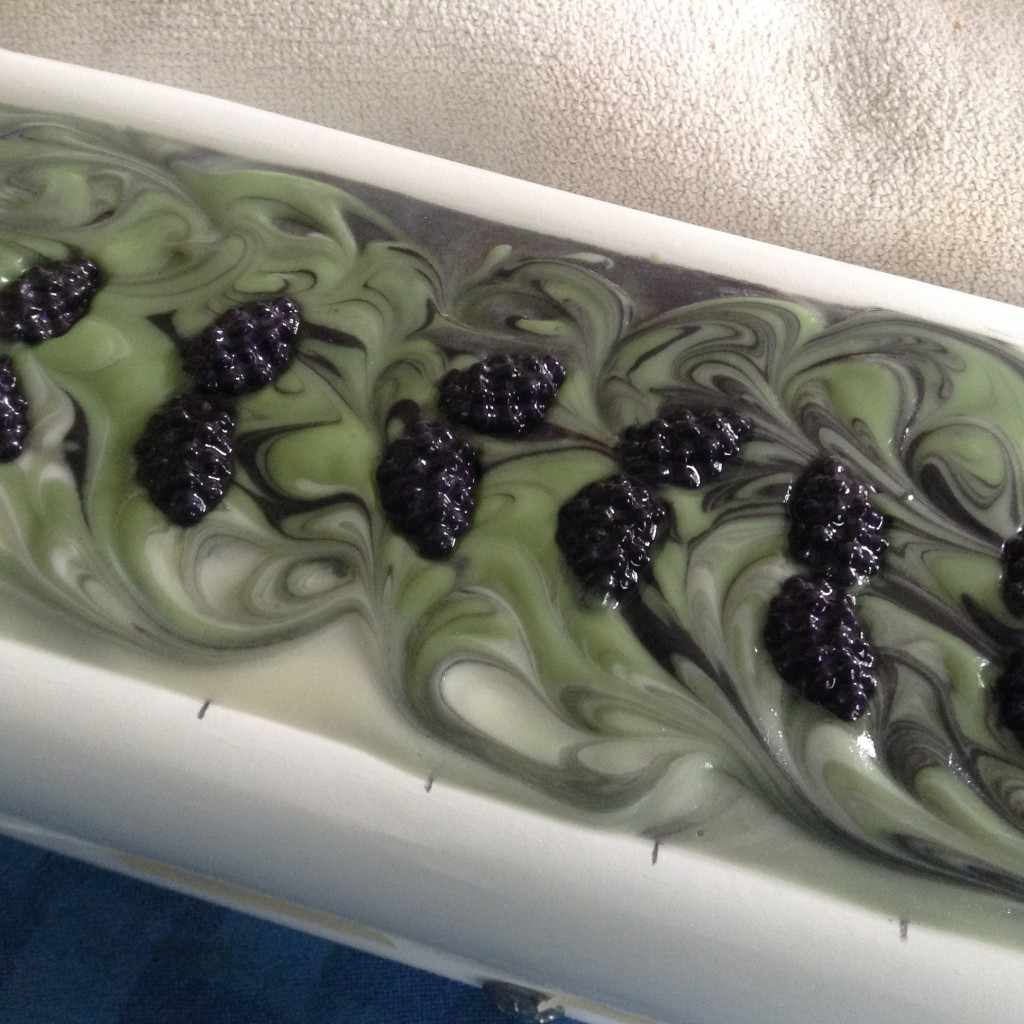 I made the blackberries with a chocolate mold I bought from eBay. I used melt-and-pour base to and combined black oxide, merlot mica, and antique blue mica until I had a perfect blackberry shade. I marked spaces on the mold where my cutter would fall so I could place the blackberries evenly.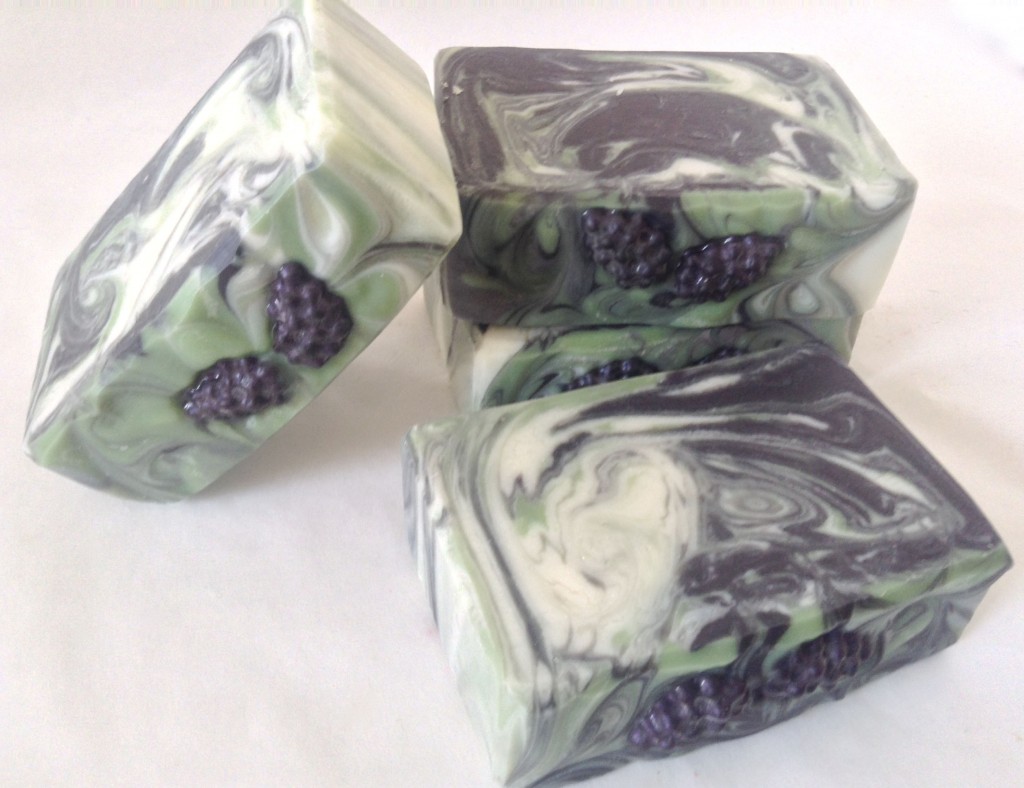 I used the same blackberry shade along with a little bit of titanium dioxide and chrome green oxide and a delicious Blackberry Sage fragrance. I love this one! I hope my customers will love it, too.
Soapmakers need to think at least two months ahead, so I have already made my Valentine's Day soaps. The first soap I made was Roses and Chocolate.
The inspiration for Roses and Chocolate comes from the two popular Valentine's Day gifts. I'm telling you, the combination of fragrances is absolutely amazing. The roses part is made with French pink clay and natural soap with no colorant and scented with a very pretty Baby Rose fragrance. I dusted a gold mica line and then added the chocolate layer, colored with cappuccino mica and scented with a Dark Rich Chocolate fragrance. The tops have a gold mica swirl. I am really pleased with how they turned out.
The next Valentine's soap I made is called Be Mine. I made a batch of this soap for family last year, but this year, I changed a few things.
First, I made the embed out of melt-and-pour soap using a heart-shaped tube mold. I am telling you, I had the hardest time getting that embed out of the mold! I used merlot mica and titanium dioxide to color the soap and scented it with a fragrance that is similar to Victoria's Secret's Bombshell. I swirled the top and dusted it with glitter.
Finally, the last Valentine's soap I made is Chocolate Covered Strawberries.
Chocolate Covered Strawberries smells just like its name! I did a Celine swirl with these soaps. The fragrance has a high vanillin content, so I knew it would discolor. I didn't add fragrance to the red and white soap. The brown is a gorgeous chocolate color, which matches the soap name well. I swirled the tops and dusted it with glitter, just as I did with Be Mine.
One of the goals I have to 2014 is to try to learn to make my own melt-and-pour soap. Melt-and-pour is so handy for embeds, but I really like more control over all the ingredients that go into my soap, and making my own melt-and-pour would allow me to have complete control. Since Dylan has also shown some interest in making melt-and-pour soaps, it will be fun for him to use bases I have made myself.
Happy New Year everyone!