As you might remember, I had planned to make chai tea soap last weekend, but my chai tea fragrance oil hadn't arrived yet. I think I received it on Tuesday of this week. Anyway, I don't fault Bramble Berry for taking their time and shipping fragrance oils ground. It's much safer when shipping flammable oils. I'd hate for a fire to start. But I was kind of bummed out that I couldn't make my chai tea soap. Next time, I will order earlier.
I made my chai tea soap on Friday instead, then cut it using my brand new crinkle cutter on Saturday.
Ingredients:
8 oz. olive oil
8 oz. coconut oil
12 oz. palm oil
12 oz. shea butter
5.472 oz. lye
13.2 oz. chai tea
4 T chai tea fragrance oil
tea leaves from 3 chai tea bags
On Thursday night, I made the chai tea in a plastic container using distilled water, boiled, and 3 chai tea bags. I steeped the tea on the counter until it cooled to room temperature, then I put it in the refrigerator. I'm really glad I did that, as you will see in a moment.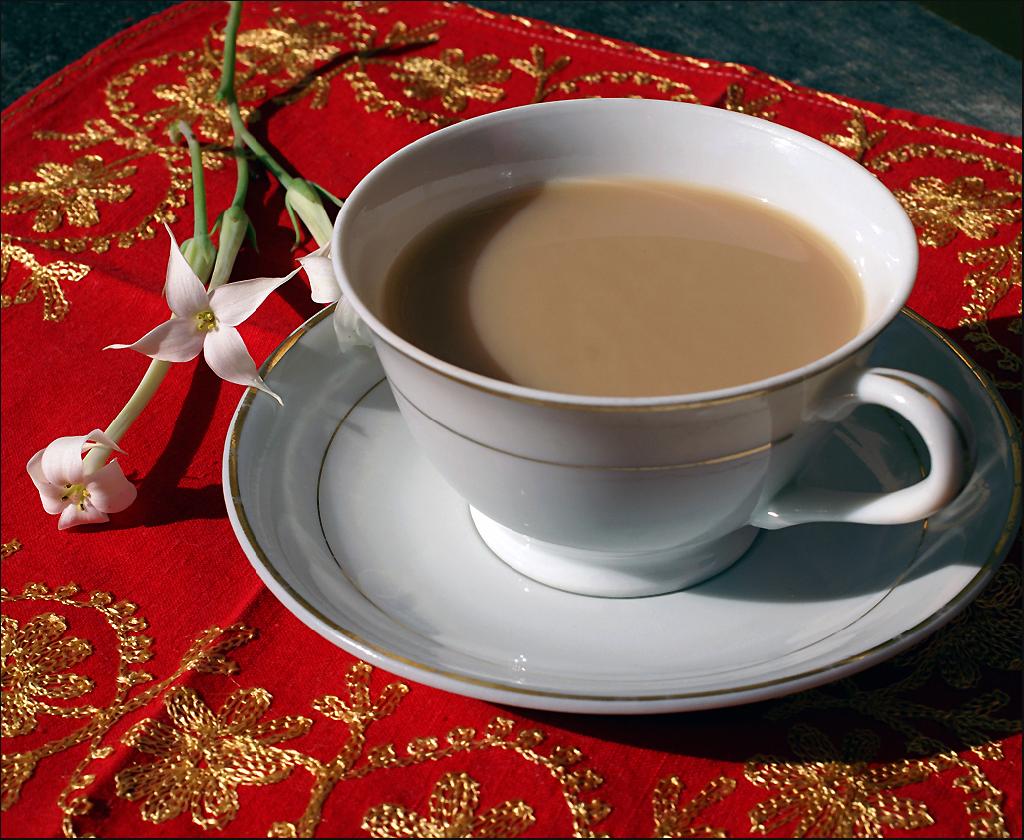 After I got home from work Friday, I got out all my supplies and mixed my lye into the chai tea. The temperature shot way up, and it stalled right around 140°. I finally decided to put it in an ice water bath. I have never seen any warnings about tea. Everyone says using milk is tricky, and you should start with frozen milk and add the lye slowly. I didn't realize the tea would do that. It could be some of the flavorings in chai tea in particular have that effect. There was a vanilla flavor and of course the spices added to the chai tea I used (Twinings French Vanilla Chai, if you are curious).
I was working with a new brand of lye, and it is shaped in little pastilles, which are a little neater in one respect—there is no fine dust left in the container when I add it to the liquid. However, they wanted to roll everywhere, so I would recommend using a bigger container than you even think you will need for lye that comes in little pastille shapes just so that you can collect all of it rather that watch it winging across the kitchen table like I did.
Once I managed to cool off the lye, I noticed my oils were a little too warm. It's always something, isn't it? I let them cool off for a minute, then I just added the lye. The soap reached trace fairly quickly. At a light trace, I added the fragrance. I didn't notice any sort of acceleration or reaction, and the fragrance oil mixed very well with the soap. I cut open the tea bags I had used to make the chai tea and put the tea leaves into the soap at a heavier trace. I stirred them in, then poured the soap in my mold.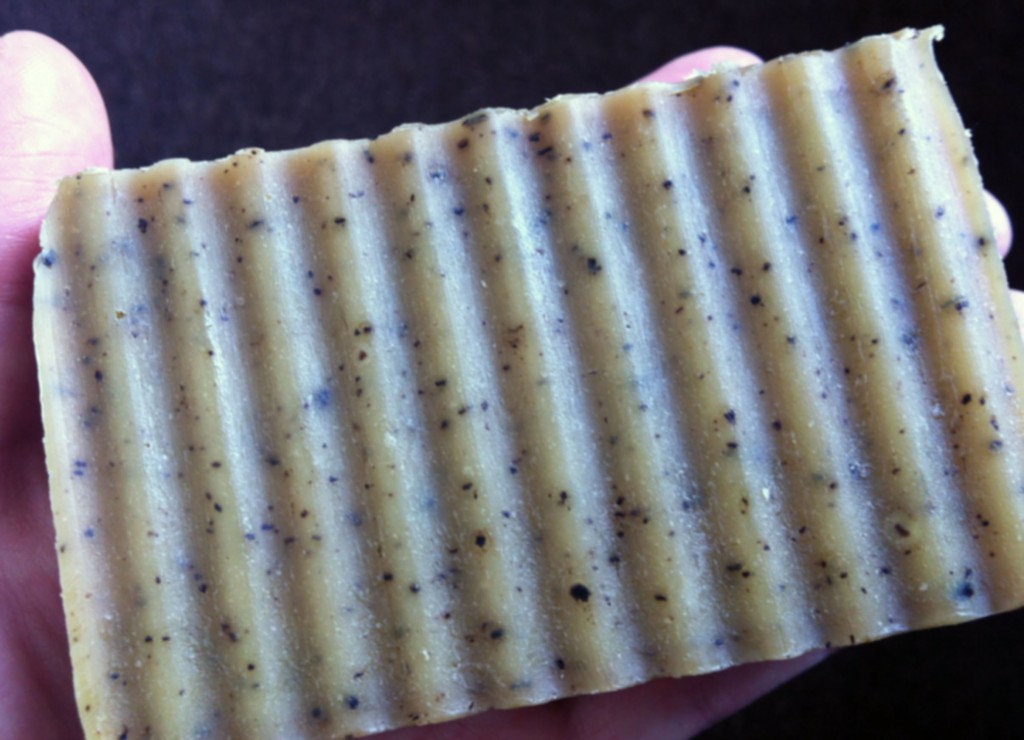 The crinkle cutter was great to work with. It made a cute design with no extra effort on my part, and it helped me cut my soap into more uniformly sized bars. The slots on my cutter mold are wider than my straight cutter, so sometimes my soap is slightly different sizes. The crinkle cutter just fits in the slots, which makes the soap easier to cut to the same size. It's a good, quality cutter, and I can recommend it to anyone making soap.
The soap came out a pretty caramel color, and the flecks of tea leaves provide a nice decoration. My husband really liked the fragrance. I can't say it smells precisely like chai tea to me (I drink chai all the time, and this fragrance is missing a sort of spicy smell), but it does smell good, and the vanilla tones of the chai scent came through. The fragrance may change as the soap cures, too, so that is something I need to keep in mind.
I put the soap on my curing rack after removing the first batch I ever made, which has now cured for four weeks and can be used. I think this batch of soap is probably the most uniformly pretty batch. I would feel comfortable selling every single bar from this batch, whereas several bars from my honey cinnamon oatmeal batch are funny looking because they were stuck in the mold, and some of my first batch of lemongrass sage have spots not colored by the essential oil. I think I have to lay credit at the feet of the crinkle cutter. I will probably be using that cutter a lot.
Chai Tea Soap by Dana Huff is licensed under a Creative Commons Attribution-NonCommercial 3.0 Unported License.
Permissions beyond the scope of this license may be available at Suds Life: About.