Woo! The snow dance worked. Despite a really cold and somewhat snowy winter, we haven't managed to have snow days. It keeps snowing on the weekend around here! Anyway, we have one today, so I indulged in a little soap experimentation last night. I tried out the third S.O.A.P. Panel fragrance.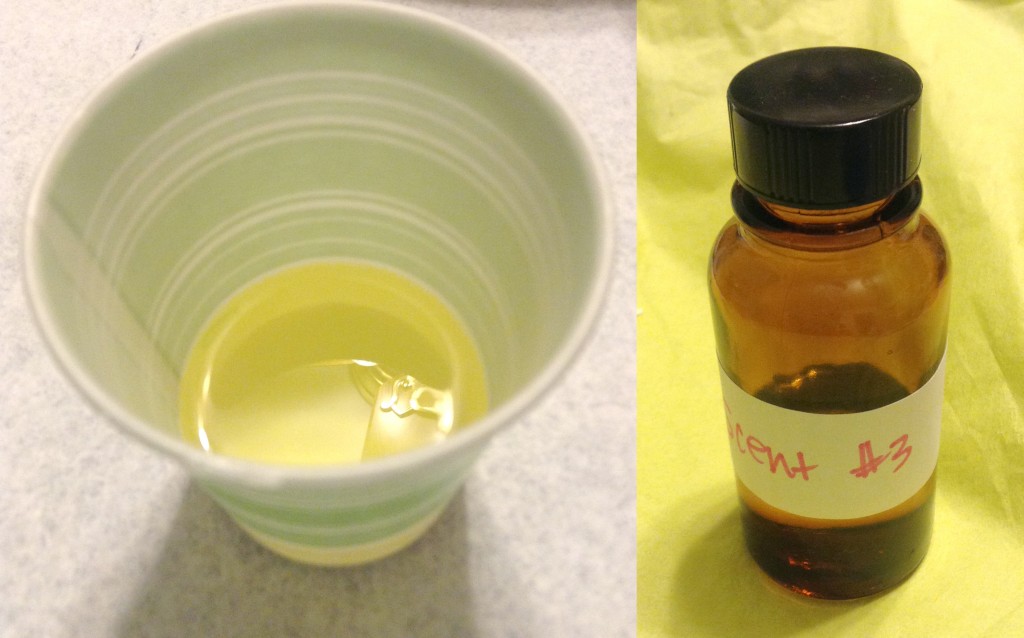 You might recall that fragrance #3 is a bit floral. In the bottle, it smells like jasmine or honeysuckle to me. It's quite strong, but I like the scent quite a lot. It's a very pretty, feminine floral, and it is perfect for spring.
As I did with fragrances #1 and #2, I used a recipe of 45% olive oil, 25% coconut oil, 25% sustainable palm oil, and 5% castor oil. I used the full amount of fragrance I had—24 grams. My recipe calls for a 6% fragrance usage rate, which would be 25-26 grams, so I used just the tiniest bit less than my recipe calls for. I also used full water.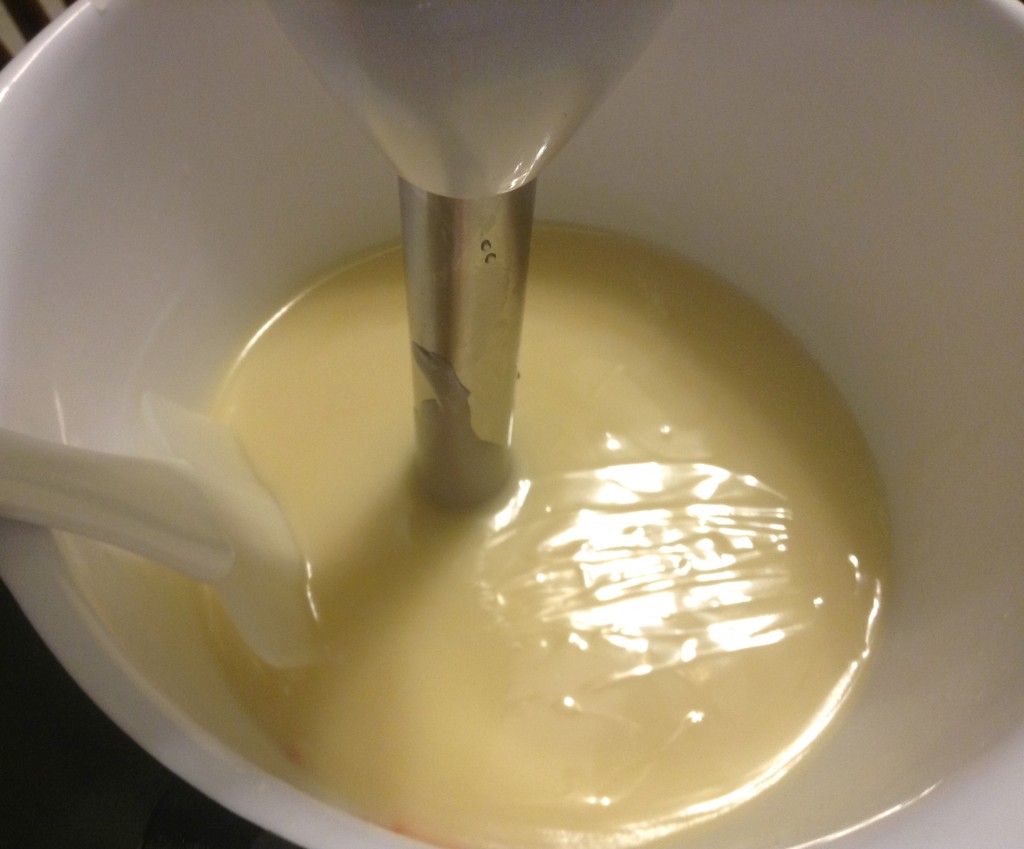 As before, I mixed my lye and oils at about 100 degrees to a light trace. Then I added the fragrance. The soap immediately turned a yellowish shade.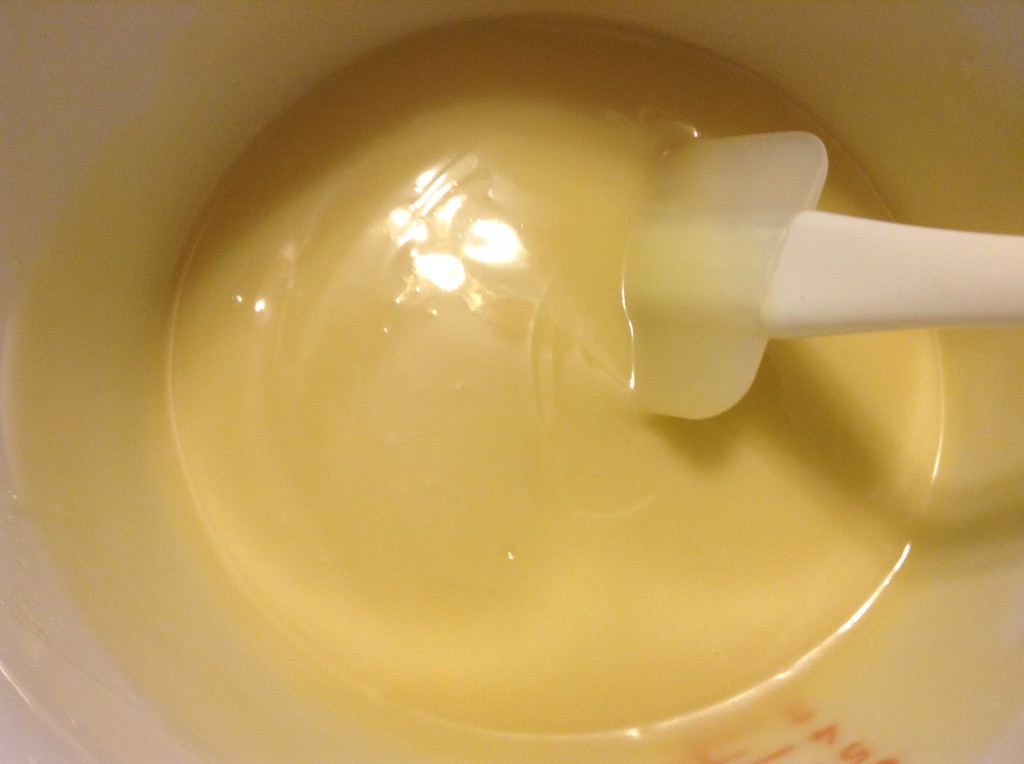 As is typical with florals, this fragrance accelerated a bit. It was completely workable, even with some additional stick blending. However, by the time I poured it into the mold, it was thick enough to swirl the tops.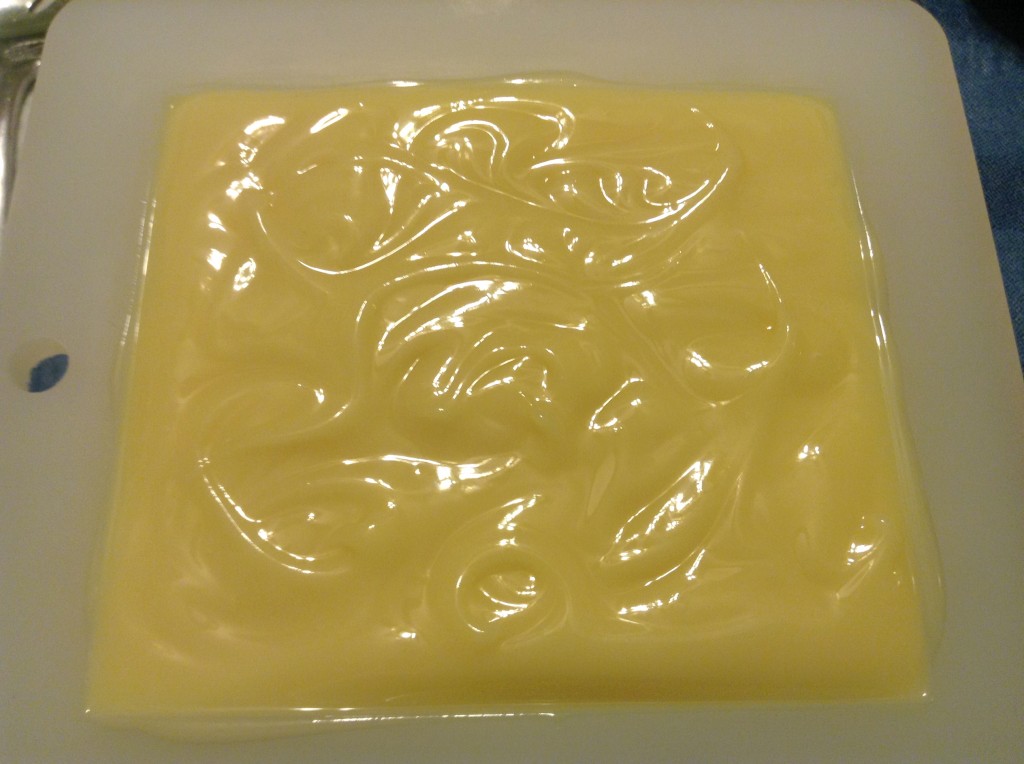 This batch is considerably thicker with about the same amount of "fussing" as the other two, so yes, this fragrance accelerates a bit. Provided a soapmaker soaps cool and stirs, rather than stick blends, it should still allow for swirls and other designs. Some recipes with butters contribute to a thicker trace as well, so it might be a good idea to use more soft oils with this fragrance.
I noticed when I checked on it after 30 minutes to spray some isopropyl alcohol on it that it was already set up firmly. In fact, when I accidentally tugged the side of the mold, it came away from the soap easily. Usually, after only 30 minutes, the soap is not quite that hard. I went to sleep and didn't check on it after about an hour, but it appears to have gelled just fine, and it doesn't appear to have become too hot (no glycerine rivers).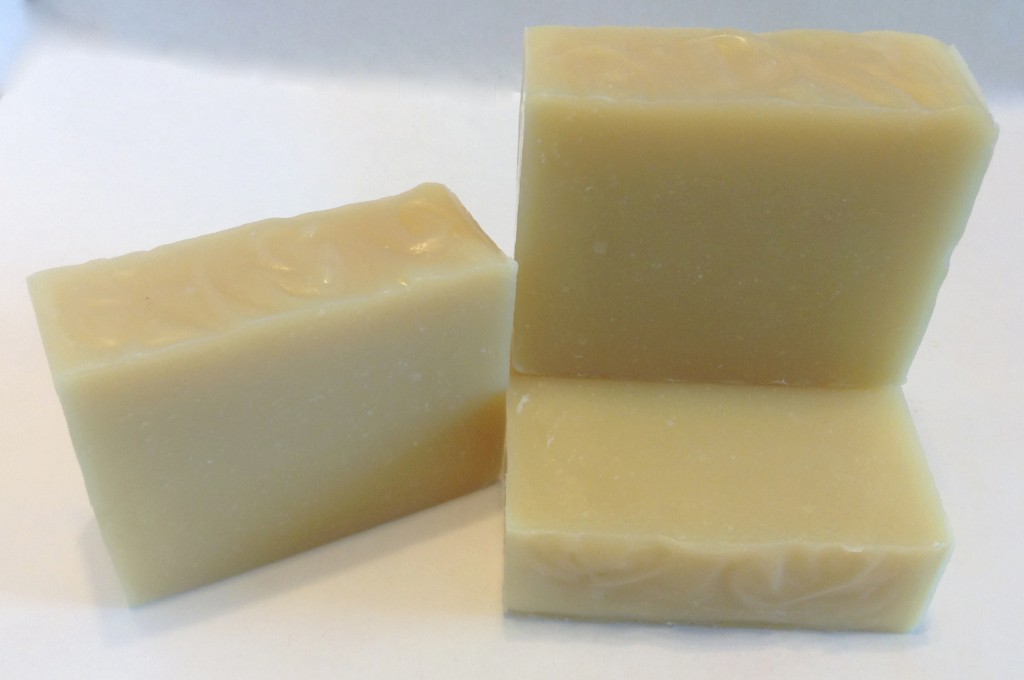 I unmolded and cut it the next day (maybe about 14 hours after I made it). The soap is discolored a bit—sort of a yellowish shade. It's completely workable, however, and I think it would do well with colorants. After saponification, the honeysuckle note comes through quite strongly, so my best guess is that this is a honeysuckle fragrance. Honeysuckle is my favorite smell in the world, so I would know it anywhere. It's quite strong. It came through gelling quite well. I will check on it over the course of its cure to see how it holds up. Depending on how it performs over time, it might even be possible to use less of the fragrance with good results. Florals tend to give me a bit of a headache if they're too strong, and right after cutting this one, I felt a bit of a headache wave, but it will most likely mellow a bit as it cures. Strong fragrances can sometimes be overwhelming when the soap is first cut, but as the water evaporates, they mellow out nicely.
Fragrance #3 would work well with white, butter yellow, and gold (if you're looking to match the honeysuckle colors), but even colors like pastel shades of pink, blue, purple, and green would go well with the scent.
I really like this one. For a floral, it is well-behaved. It doesn't discolor very much. It's nice and strong and holds up well in cold process. Two thumbs up, Bramble Berry! I loved this one.