This weekend was a busy weekend for me! I tried out a couple of new things: making cupcake soaps and soy candles!
I apologize for the bad lighting in the cupcake photos. It was dark outside already (and soon enough it will be dark by 4:30 PM around here), and I just couldn't adjust for the bad lighting in Photoshop like I usually can.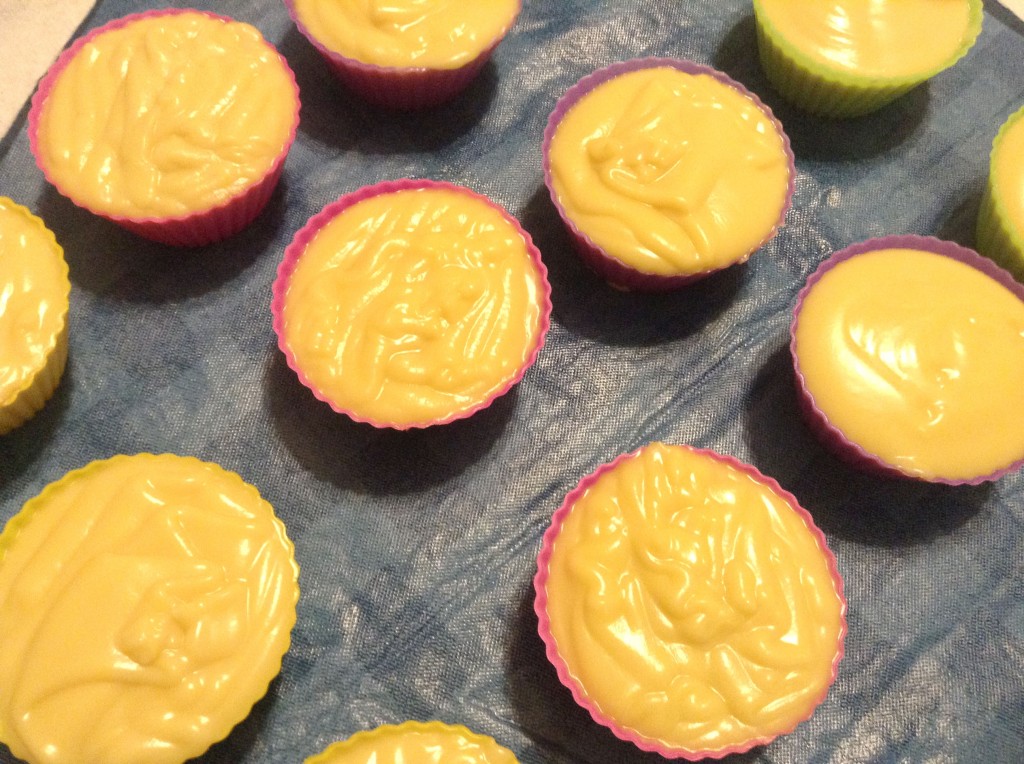 Here are the "cakes" in my silicon cupcake molds. Very easy to use! Just peeled the cupcakes right out the next day. My batter was getting thick by the time I poured some of them, so they don't have smooth tops. I used Anne-Marie Faiola's Cupcake Cuties recipe (with the tweak of converting to grams) from Soap Crafting: Step-by-Step Techniques for Making 31 Unique Cold-Process Soaps. Her combination of Dark Rich Chocolate fragrance and Vanilla Select fragrance smells exactly like chocolate cake. I used the Summer Fling fragrance she suggested for the frosting in the recipe, and it definitely has a sort of sugar or frosting note.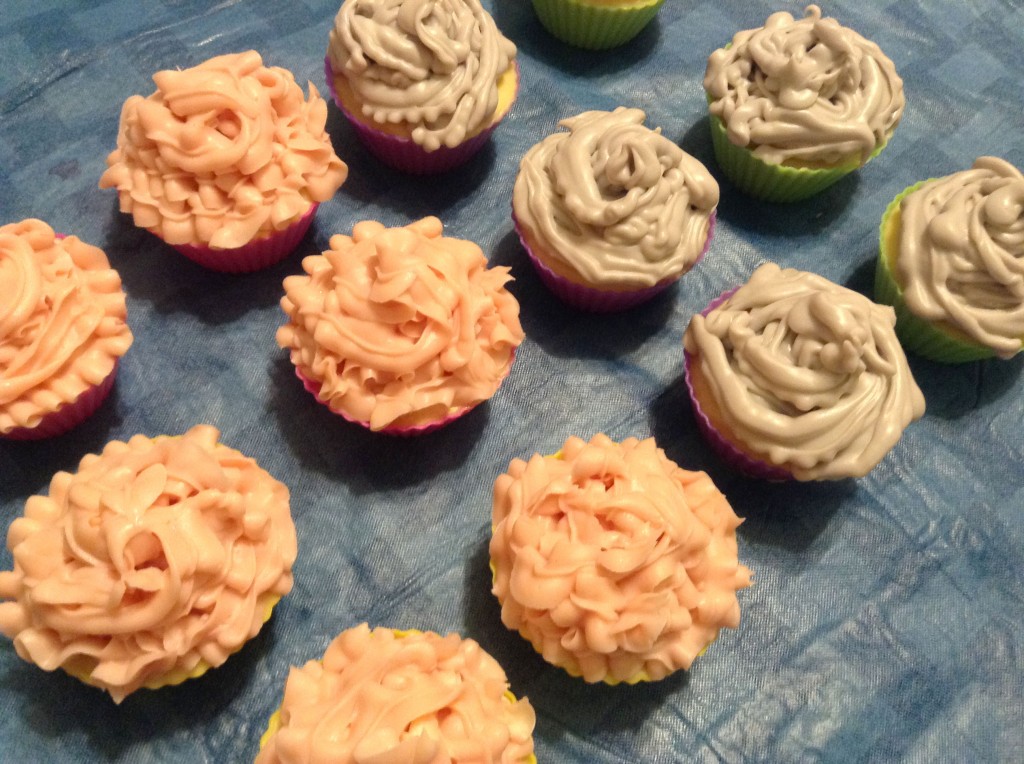 Given that I've never piped anything with a frosting bag before, I didn't do badly, but I do hope I improve!
I also tried making soy candles. I have so many fragrances. All I really needed was the wax and wicks, as I also had a box of Mason jars. I just love Mason jar candles! I think they are so beautiful. I opted not to color my wax, mainly because I really love the look of a white soy candle.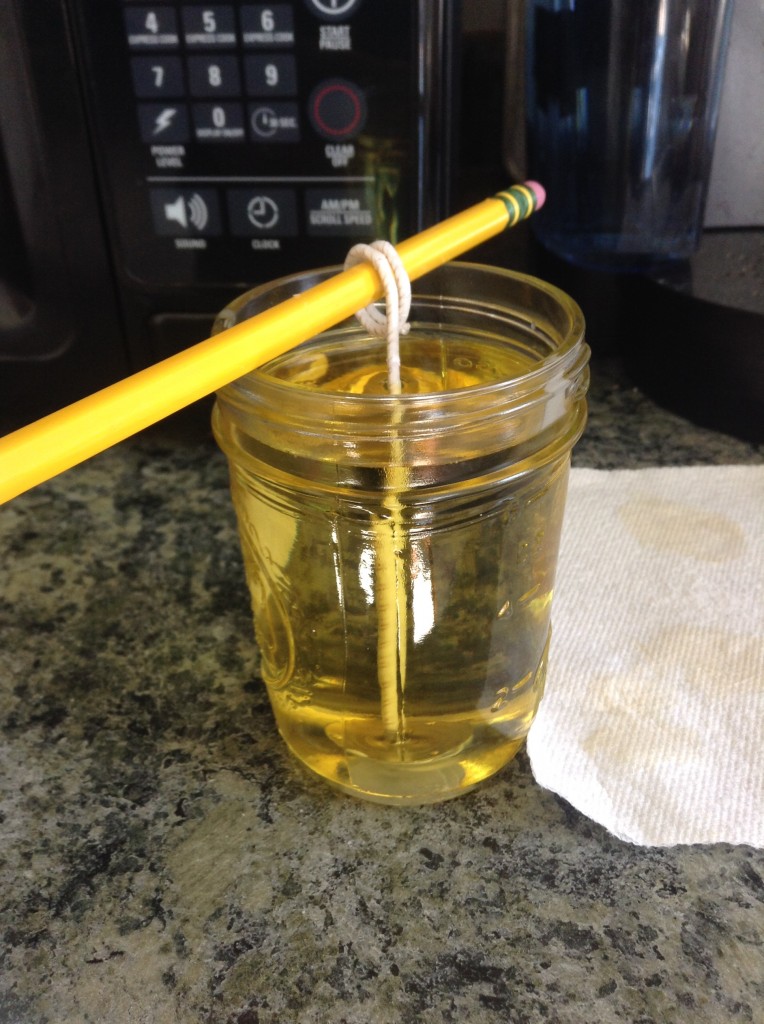 This is my Vanilla candle right after it was poured. I had so much fun that I made four more: Candy Corn, Mistletoe and Ivy, Winter Sleigh Ride (to match one of the soaps I made), and Chocolate Cake (using Anne-Marie's combination of Vanilla Select and Dark Rich Chocolate).
I felt very accomplished after making all these candles. The soy wax was a breeze to clean up, and I had been afraid it would be a mess.
I can't wait to try these out and see how they smell burning. Their cold throw is quite nice. If they turned out as well as I think they did, I will be adding candles to the Etsy store in time for Christmas.
Finally, I made two batches of my Coffee and Cream Soap. I only have one bar left, and I want to make sure I have some before Christmas.
I love making this soap because it smells soooo good! In fact, Steve had to make himself some coffee after I made it. I think I'll do a Coffee and Cream candle to match the scent of the soap.
I think if I am going to make double batches regularly, I'll need a bigger bowl. I managed to divide my soap into two batches: dark coffee and lighter cream colored soaps. Then I split my coffee and lye in two and essentially made two batches of soap.
It was a busy weekend, but I had a lot of fun. We also went apple picking on Saturday, which is one of our favorite things to do in the fall. I imagine our favorite farm will likely close the season soon.
All in all, it was a great weekend. Hope you had a wonderful weekend as well.