Lavender Romance Soap with a Holly swirl. Ingredients: water, olive oil, coconut oil, sustainable palm oil, sodium hydroxide, avocado oil, fragrance, shea butter, cocoa butter, castor oil, kaolin clay, colorant, activated charcoal, yogurt, buttermilk, goat milk, silk.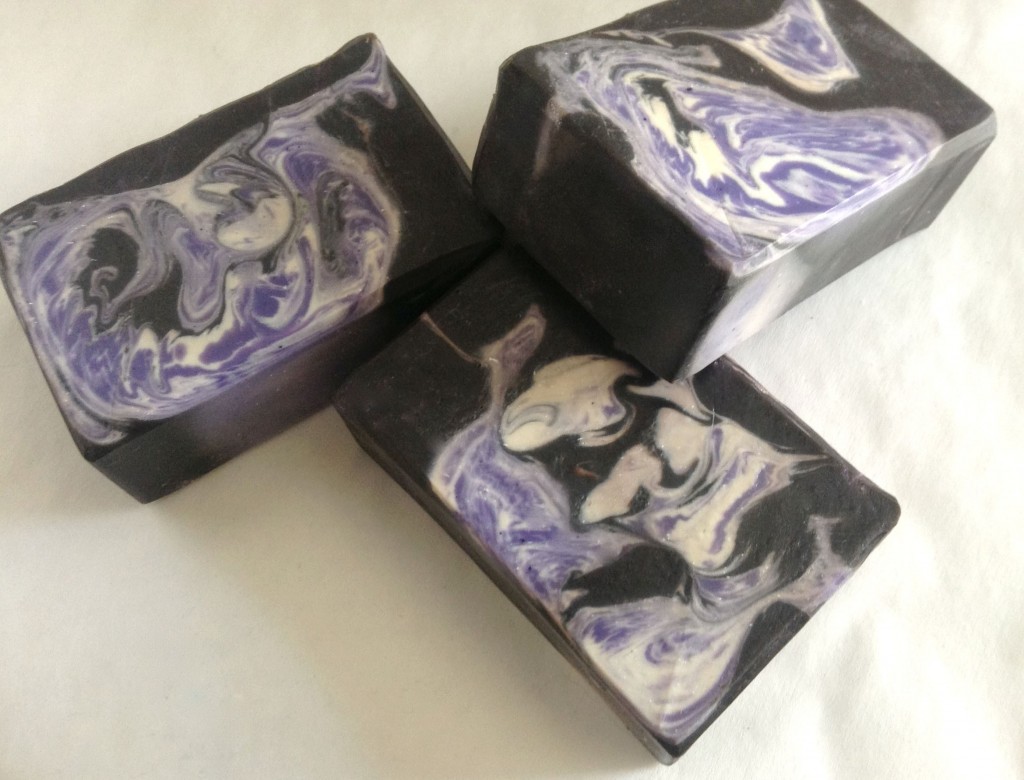 This month's challenge in the Soap Challenge Club hosted by Amy Warden of Great Cakes Soapworks was to create a soap with a Holly swirl. The Holly swirl is named for its inventor, Holly Bailey, of Missouri River Soap Company. She makes excellent soap and generously shares her techniques on her YouTube channel. You can read her blog here or follow her on Facebook here. The technique is a swirl within a swirl—an in-the-pot swirl of two or more colors coupled with a drop swirl with an additional color. Here is the video Holly made when she tried the swirl for the first time:
Holly mentions in the video that vertical soaps really make this design shine, and it's true, but I don't have an appropriate mold for vertical soaps, so I improvised with my standard mold.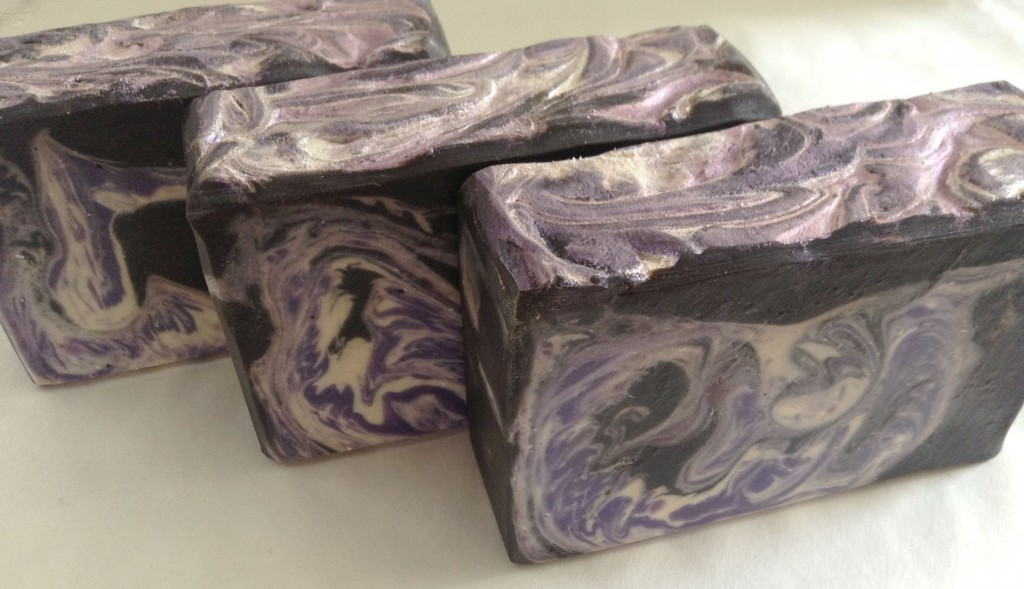 I used a fragrance that discolors, but I didn't want it to wreak havoc on my swirls, so I only added it to the black part, colored with activated charcoal. The activated charcoal was a little gray when I first cut the soap, but as the fragrance has darkened, so has the black in my soap. I think it has a sexy look that goes together well with its sexy scent, which is a blend of rustic amber with bold Parisian lavender and a mysterious black myrrh, sweet vanilla tonka bean, and a splash of Egyptian musk rounded out with raw clary sage. I received it as a free sample from Bramble Berry in one of my earliest orders with the company, and I immediately used it to make solid perfume. It smells gorgeous! It's quite possibly one of my personal favorite fragrances, and I just can't wait to try this soap!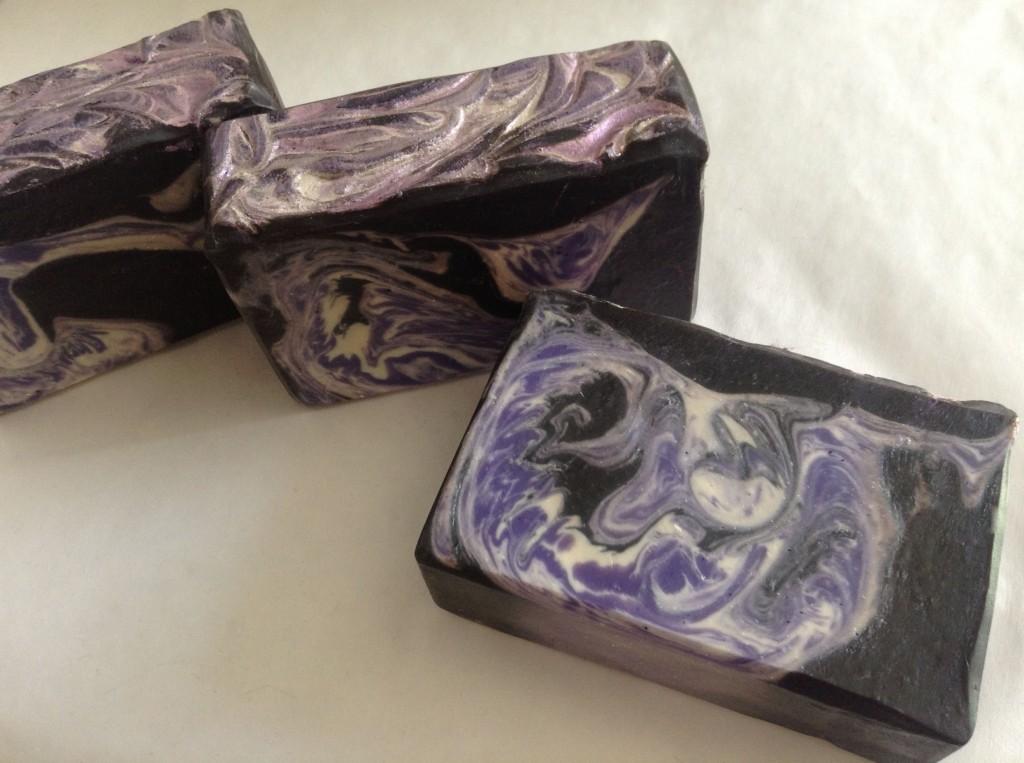 I used ultramarine violet oxide and titanium dioxide to color the swirls, and they turned out well. The fragrance has not migrated very much to the swirled parts of the soap, so they have remained vibrant. The slight discoloration that did occur in some places only adds to the sexy, smoky appeal of the soap (in my opinion, at least).
As you can see, the tops have a mica swirl done with purple and white micas. I did not gel this soap because I didn't want to risk glycerin rivers in the titanium dioxide. Also, when I work with a new fragrance, I find that not gelling is sometimes smarter because the soap is less likely to do crazy things in the mold.
This soap also taught me to love using activated charcoal in my soap. It is so much fun to see how it looks in the soap batter and the finished soap. It can go gray if you do not use enough, so you need to experiment to determine how much you might need to use.
The Holly swirl technique is fun, and I would definitely recommend trying it, even if you are relatively new to swirling. It was not as complicated as the mantra swirl or the peacock swirl, and I liked the results a lot better, too.