When I saw Kenna's Facebook post about her Inspiration Soap Challenge, I pounced quickly, knowing her 15 challenge kits would be snapped up by eager soapmakers. I was lucky enough to be in the first 15 claimants, and I received my kit and challenge in the mail.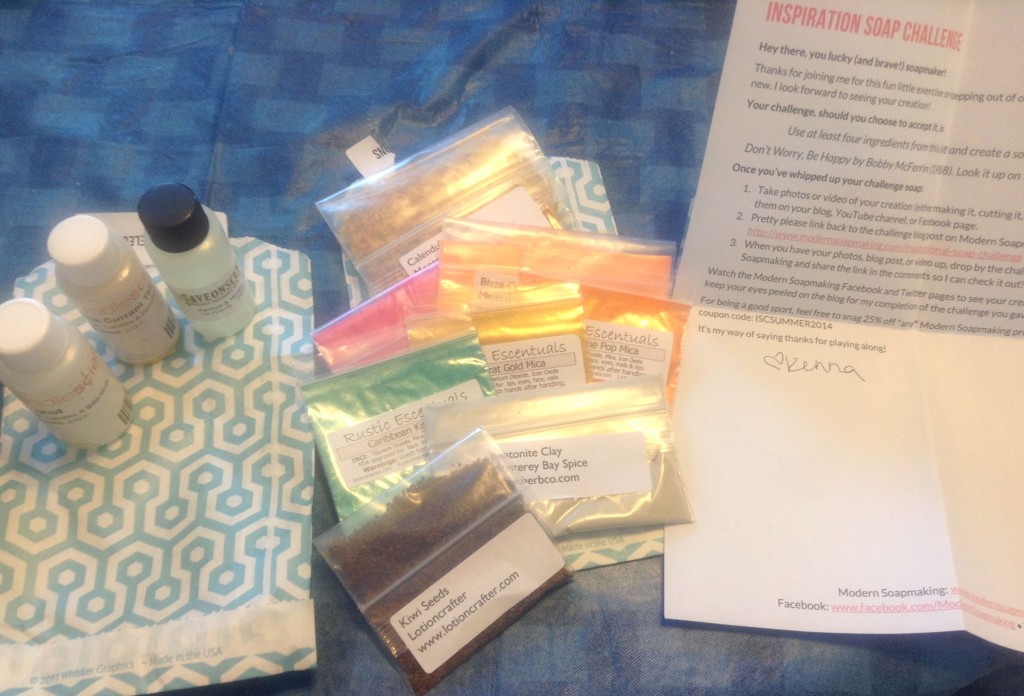 Here is what I received:
One ounce each of three fragrances—Save on Scents' Apricot Honey, Candle Science's Coconut, and Candle Science's Black Currant Tea. All three of them smell great.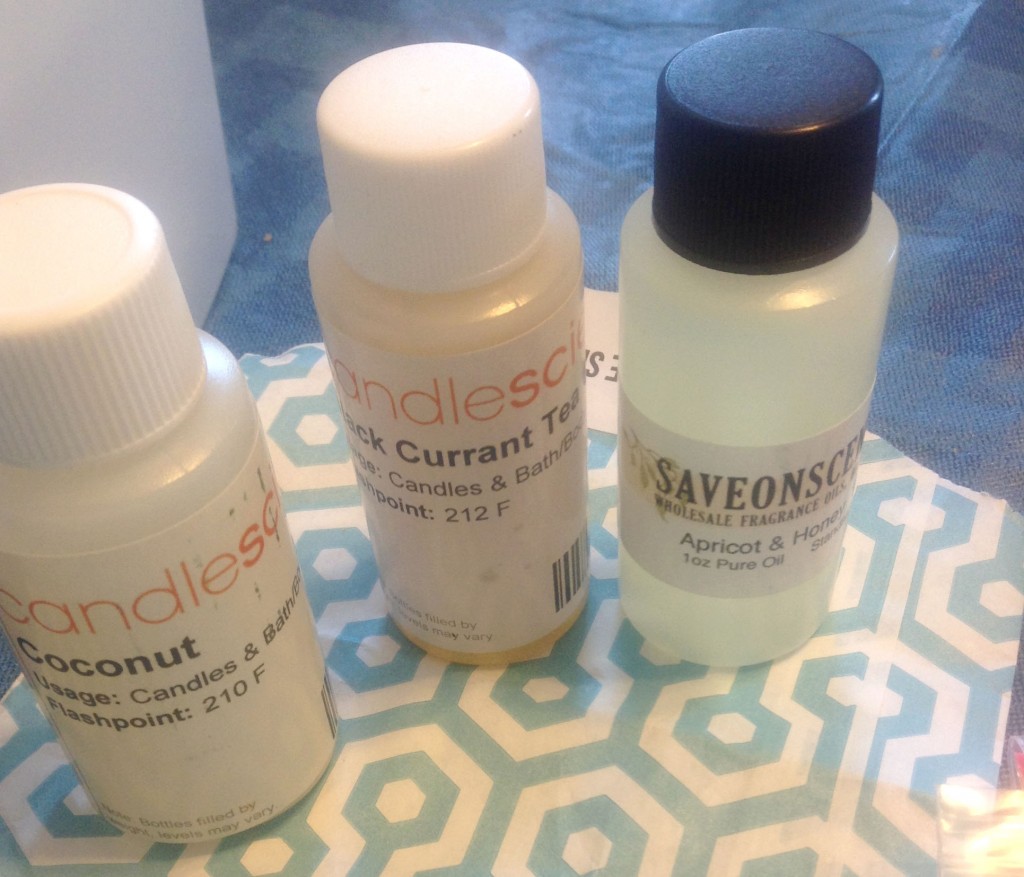 Additives: kiwi seeds from Lotioncrafter, bentonite clay from Monterey Bay Spice, calendula petals from Monterey Bay Spice, Blaze Orange Day-Glo color from Majestic Mountain Sage, Corona Magenta Day-Glo color from Majestic Mountain Sage, 24-Karat Gold mica from Rustic Escentuals, Caribbean Kiss mica from Rustic Escentuals, and Clementine Pop mica from Rustic Escentuals.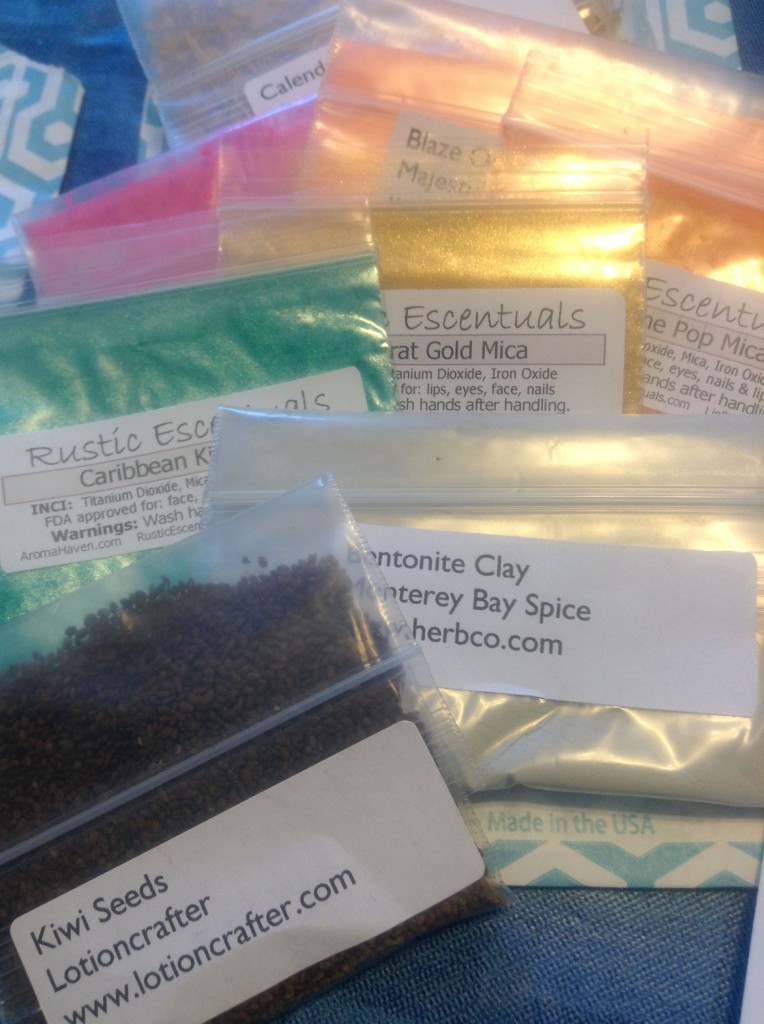 My mission? To craft a soap inspired by Bobby McFerrin's song "Don't Worry, Be Happy" using at least four of these ingredients.
Here is Kenna's note: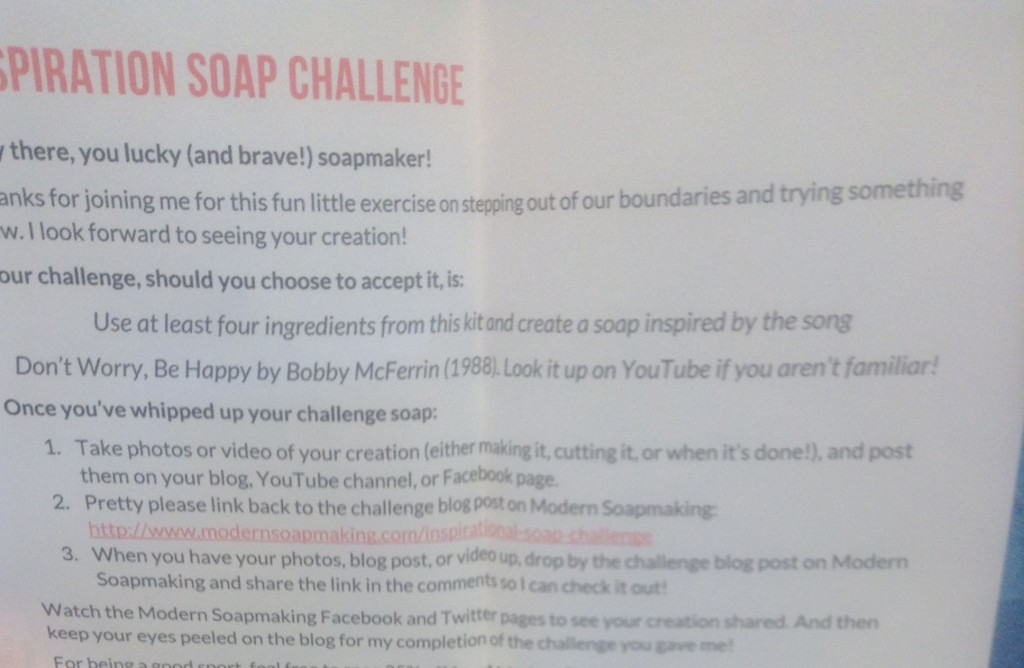 Thinking of this song, the three Rustic Escentuals micas, the Apricot Honey fragrance, and the calendula petals immediately jumped out at me. The song reminds me of summertime, and those colors and fragrance screamed summer. I decided not to wait and set to work immediately.
I used my one-pound shea butter recipe, which has 40% olive oil, 25% coconut oil, 25% sustainable palm oil, 5% shea butter, and 5% castor oil. I also added cream, kaolin clay, and tussah silk.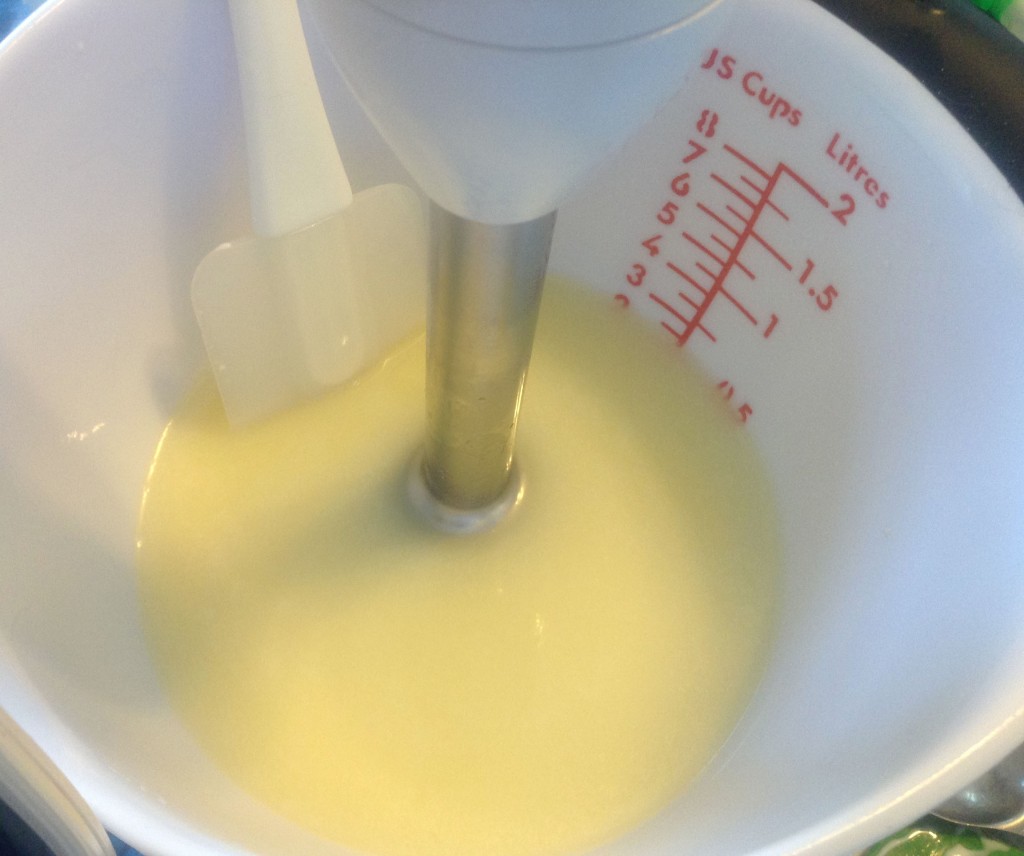 I decided I would leave part of the batter uncolored. I would pour the uncolored batter into the mold first. I would use the three mica colors and do an ITP swirl, then pour those into the uncolored batter to do a Holly swirl. It didn't quite work according to plan.
Part of working with an unknown fragrance is the surprise it might offer—will it discolor? Will it accelerate trace? I had no way of knowing, really, as the reviews on the site didn't say. I plunged ahead. I suspected it would accelerate mostly because of the fruity (almost floral) nature of the scent, which I LOVE, by the way. I don't smell the honey as much as the sweet apricot fragrance.
It did accelerate a bit, as it turns out. I was still able to swirl my soap, but I had to move quickly. Everything was going smoothly as I poured the uncolored batter into the mold.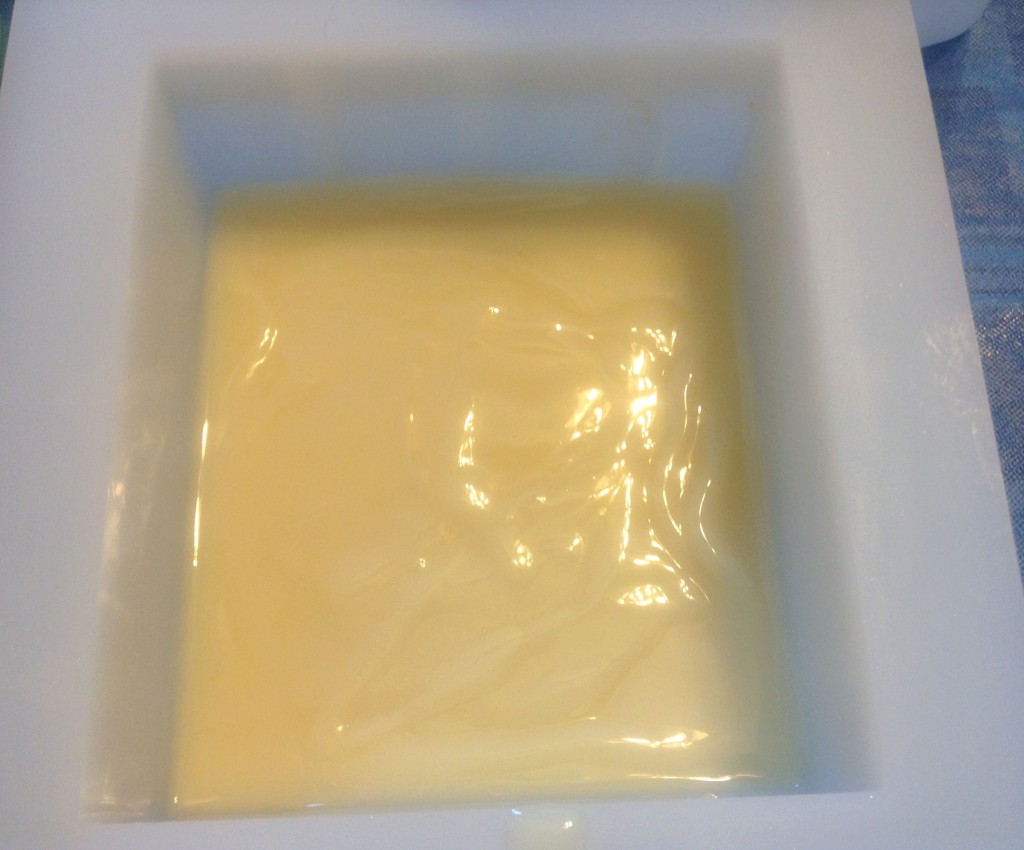 I had already prepared my three micas and decided to pour the soap directly into these cups.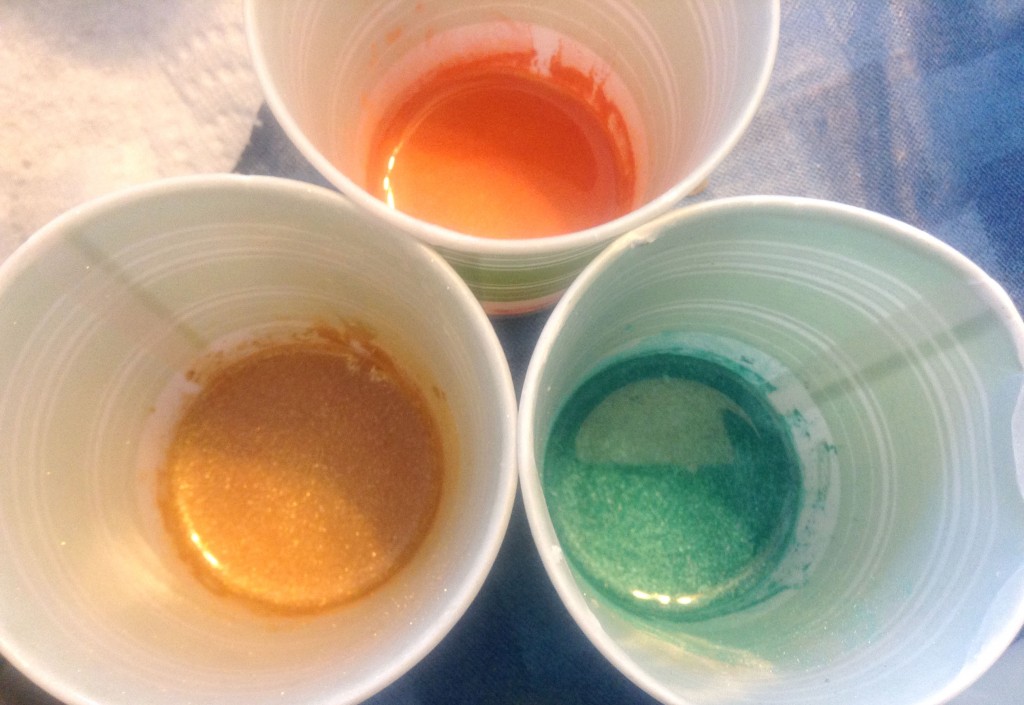 Aren't they beautiful?
The soap was thickening up by the time I was done mixing the colors.
So, my ITP swirl was not as fluid as I envisioned it. I knew it wouldn't drop swirl easily into the uncolored batter, either. What to do?
I poured it from high so that it would penetrate, then I spoon-swirled it.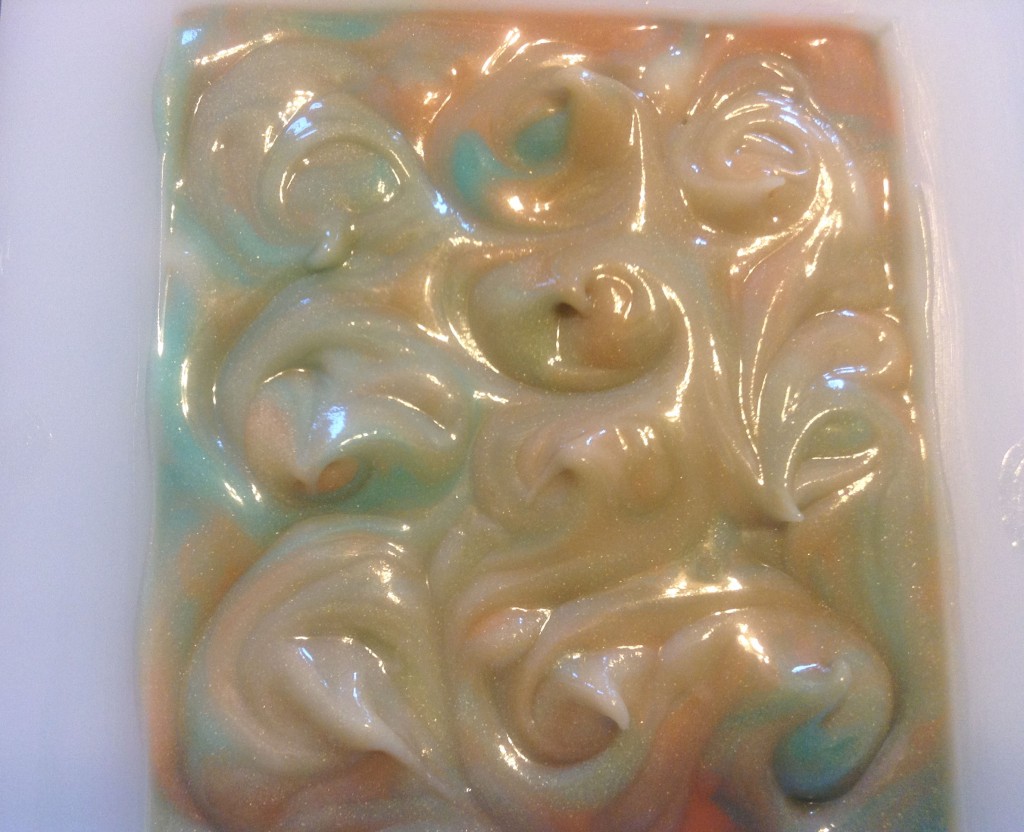 And the pièce de résistance? The calendula petals.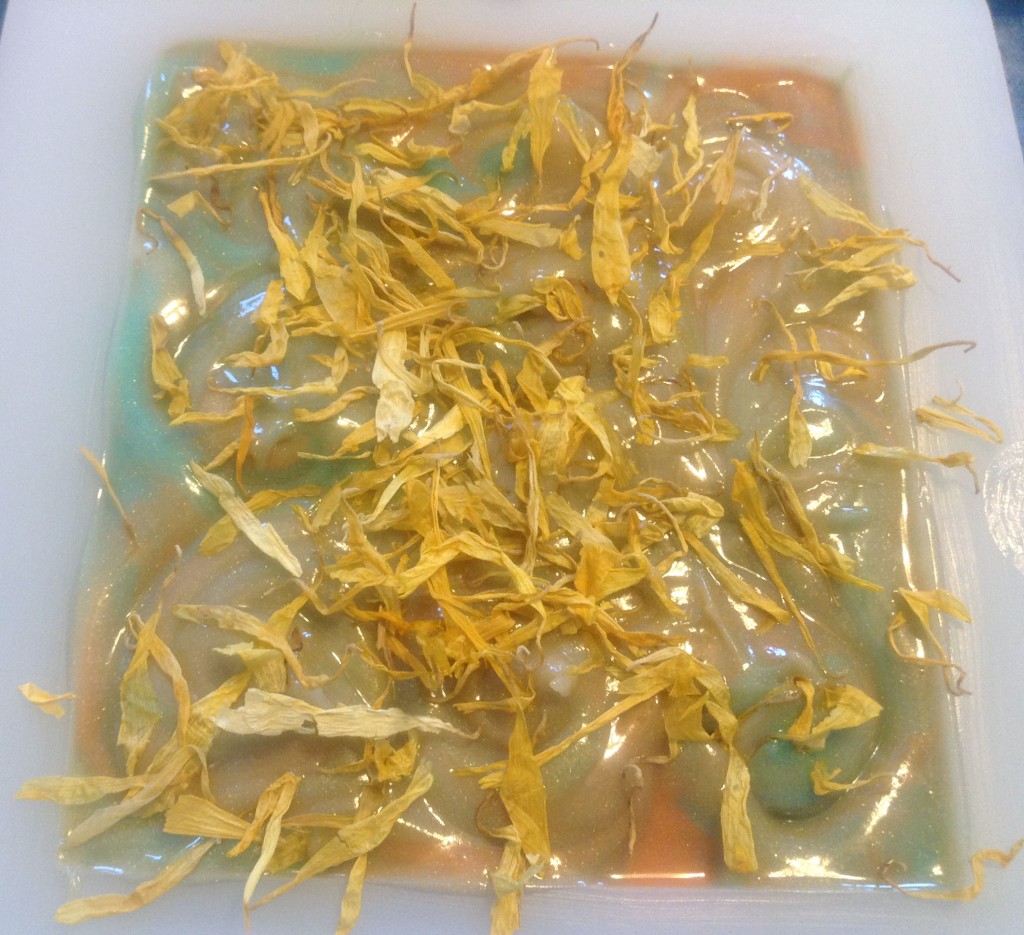 I put the soap to bed to gel. I checked on it a few times, and I can tell you that it moved fast and became quite hot pretty quickly. It was over 140°F one time when I checked it, and keep in mind this was probably within the first hour after I made it. Just a warning about that fragrance! I hoped that the fragrance would stick OK, but the flashpoint is 200°F, so I crossed my fingers.
As it turned out, the fragrance made it through saponification just fine. After I cut it, I could smell the honey notes much more than I could out-of-the-bottle. It really smells delicious. I'm telling you, you couldn't worry when you smelled it—it would make you happy! I just hope it's going to remain strong through the cure.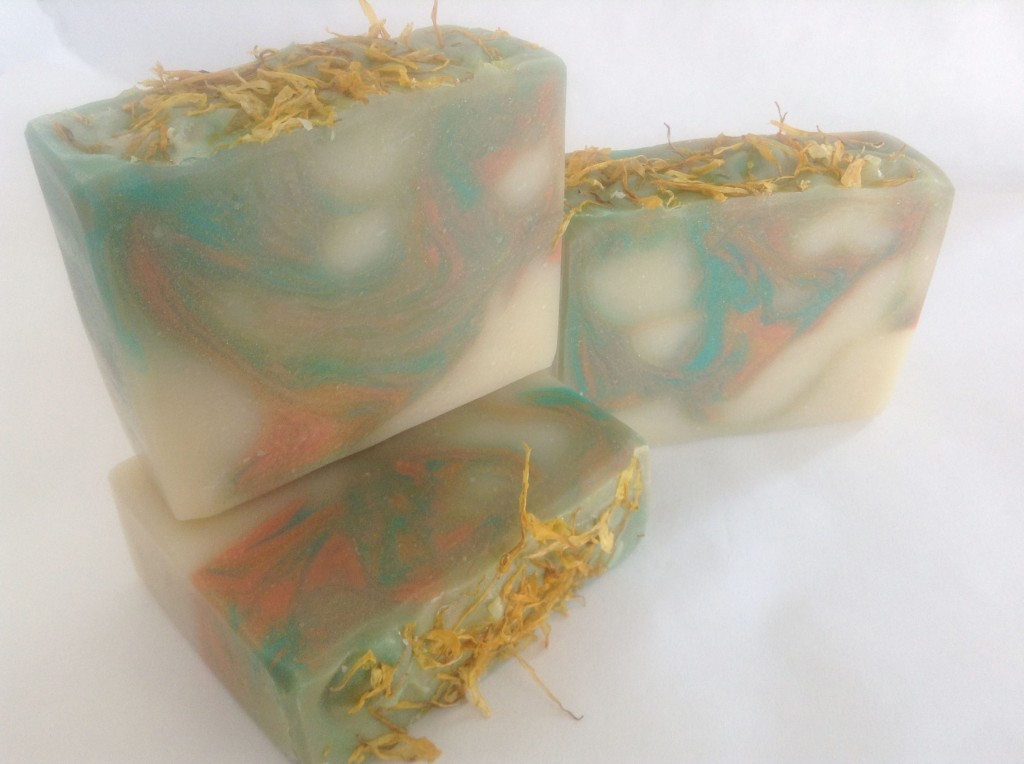 Here is a close-up of one of the bars so you can really see how the colors came out. The Caribbean Kiss mica is a perfect Caribbean water shade, and the Clementine Pop mica really matches the apricot notes in the fragrance, while the 24-Karat Gold mica ties in the element of honey in the scent. As it turns out, the swirl looks great—perhaps better than it would have looked if I had just done a drop swirl with the swirled colors.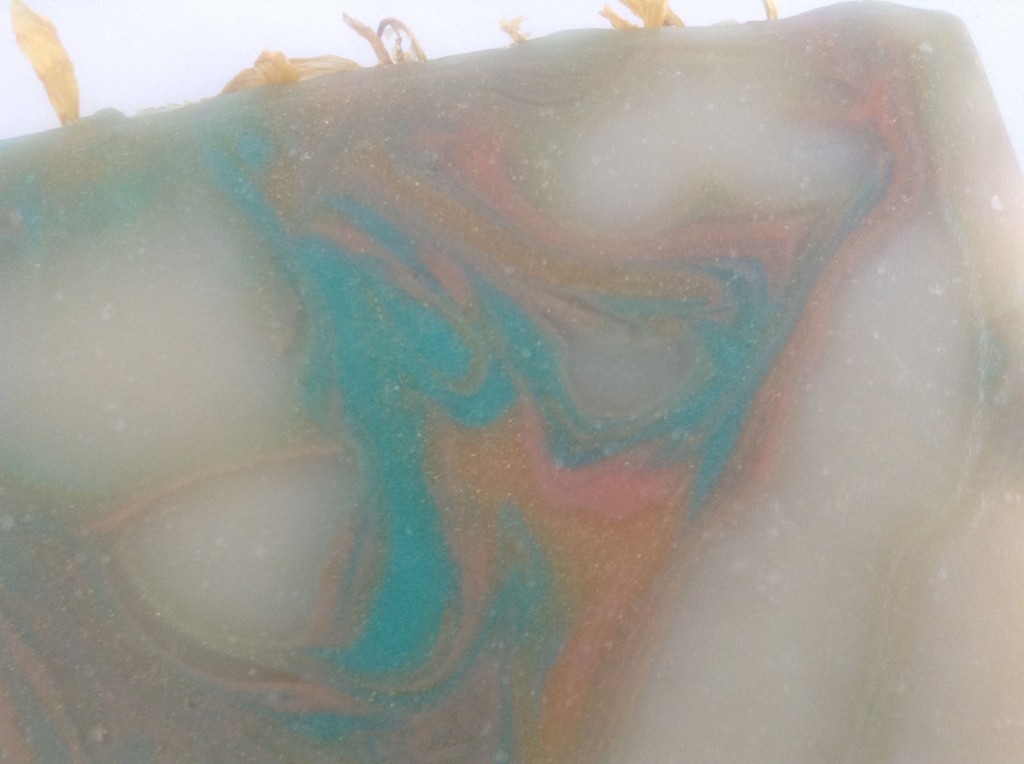 As you can see, the natural soap did not discolor either, so while this fragrance accelerates, it does not discolor, which means it is great for whatever colors and design you want to try (given you can work with the acceleration).
I'm really pleased with how the micas turned out as well. I didn't know if the 24-Karat Gold mica would look like much in CP soap, but it honestly pops pretty nicely—you can see the sparkles throughout. It's hard to tell from the pictures, but the sparkles really do catch your eye if you can see the soap in person.
A couple of interesting notes about this challenge:
It was fun trying to use the kit to make something based on the challenge idea, and I found the idea came to me immediately. Kudos to Kenna for the great idea.
I really fell in love with the Clementine Pop mica, and I'm going to have to order some more of that. I liked the other two a lot as well. I do not have as much experience with micas, and so I feel shy ordering them (for some reason) because I'm not sure what I'm going to get. I was so happy when I checked Rustic Escentuals' site and found they were all CP stable.
I really liked all three fragrances. Coconut does scream summer, but even without checking, I figured it would discolor more than the Apricot Honey, so I went with my gut on that one.
Almost all the materials I received were new to me. I have used calendula petals and bentonite clay in soap before, but I had not used anything else. I had never even purchased from any of the companies except Rustic Escentuals and Majestic Mountain Sage. It was fun to learn about some potential vendors and try their products before I buy them.
After watching the music video for "Don't Worry, Be Happy" again, I discovered the colors I used (or at least similar ones) appeared in the video! I see them mostly in the background. Isn't that wild? I wonder if my subconscious somehow dredged that up (as many times as I saw that video in the 1980s!), but… nah.
This soap will be ready to use on August 2, 2014. I decided to give one bar away. Here's the catch: no fair entering the contest from multiple Twitter or Facebook accounts. You can certainly enter more than once using one of each kind of social media account, but if you try to game the system, I will disqualify all your entries. I was disappointed to learn someone tried to do that with my last giveaway. I want someone who really wants this soap to win it, not someone who just enters freebie contests, so please—your social media accounts should contain tweets besides giveaway announcements. Aside from those caveats, go for it!