I decided to use the last of my S.O.A.P. Panel freebies, Mandarin Oasis. I didn't test this fragrance on the S.O.A.P. Panel—it was not one of my eight fragrances, but it was one of the fragrances tested by the second panel last year. Testers received two ounces of each of the fragrances that were ultimately selected for sale.
Bramble Berry describes the fragrance as follows:
This fragrance smells great for both kids and adults! Similar to Energy, one of our top selling fragrance oils, Mandarin Oasis has a sweet orange top note but with a sophisticated undertone. Mid-notes of papaya, ginger and thyme really hold this fragrance together giving it a sweet and sultry aroma. Crisp notes of cotton, teakwood, and neroli make this fragrance extremely versatile for projects ranging from personal perfume, laundry soap, or sugar scrubs. Take your senses on a mini-vacation!
I don't smell the similarity to Energy myself, but I do smell the sweet notes in the fragrance. I'm not sure I pick out a mandarin orange scent. It doesn't smell spicy to me at all. I think I do detect the neroli. My nose is not the most sophisticated in terms of making distinctions among all the layers in a fragrance. However, Mandarin Oasis does smell absolutely gorgeous. It's very feminine.
I've written before about using the color wheel to create soap designs. But I don't use the color wheel alone when thinking about which colors to use. I also think about what colors match the fragrance. When I think mandarin, the first color that comes to mind is orange. I toyed with the idea of an orange, black, and white color scheme for this fragrance, but the more I thought about it, the more I didn't think it fit this particular fragrance. I think quite a lot about colors that match the fragrances I use. The image Bramble Berry attaches to this fragrance is black palm trees at sunset. It's pretty, but it doesn't quite evoke the fragrance for me either. It seems a little too dark. However, it did give me an idea. What about using sunset colors?
The beautiful oranges, pinks, purples and yellows could work well with this fragrance, and pops of white could help bring the whole look together.
The first thing I did was make an orange embed to represent the setting sun. I neglected to take a photo of it.
I put together my colorants: Rustic Escentuals's Clementine Pop Mica, Nurture's Purple Vibrance, Yellow Vibrance, and Pink Vibrance, and titanium dioxide.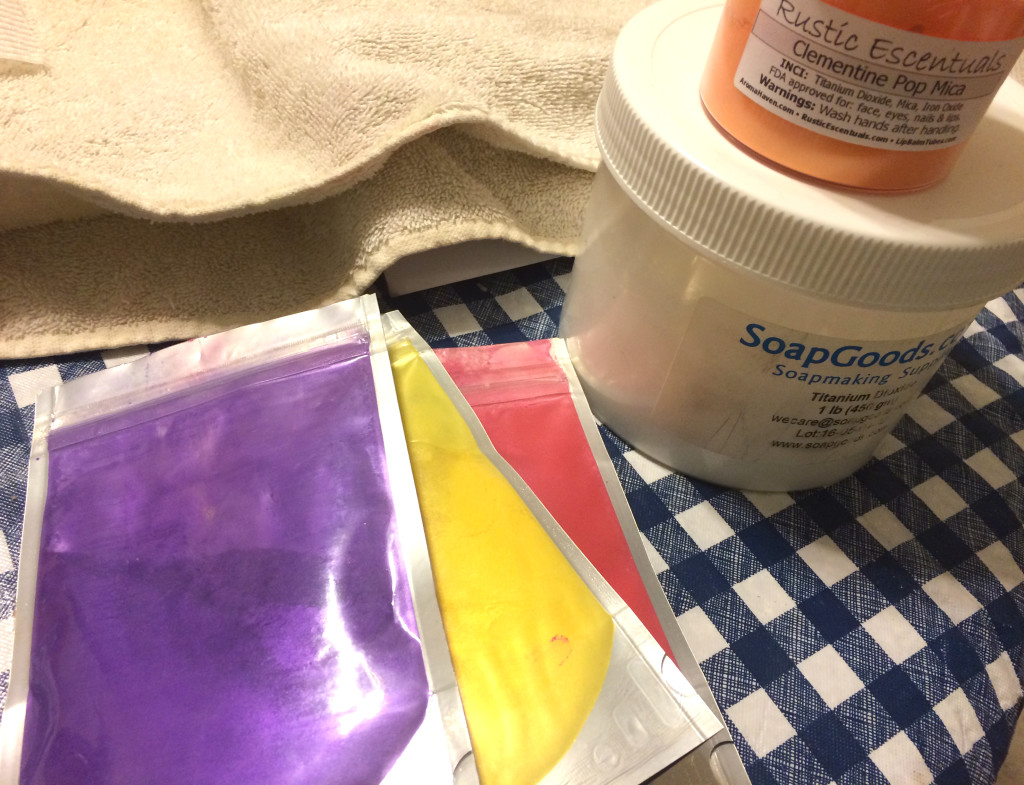 I mixed the colorants up and decided to use squeeze bottles to make a layered design. I would not do this again. The soap set up a little bit fast, perhaps because of the floral notes in this fragrance or perhaps because of my recipe, but it was very difficult to squeeze by the end.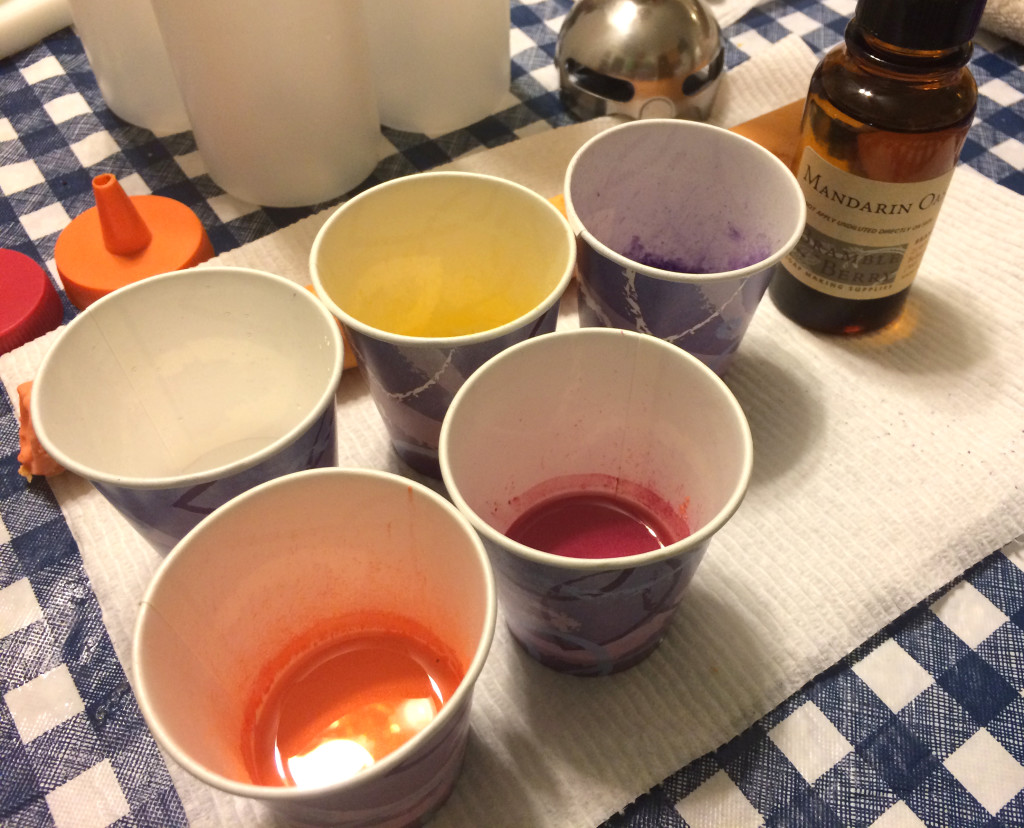 I attempted to create a video of the process, but it wound up being too long and difficult to capture. I took a picture of the top before I put the soap to bed, but the lighting was not too good by that time (it was after 10:00 PM).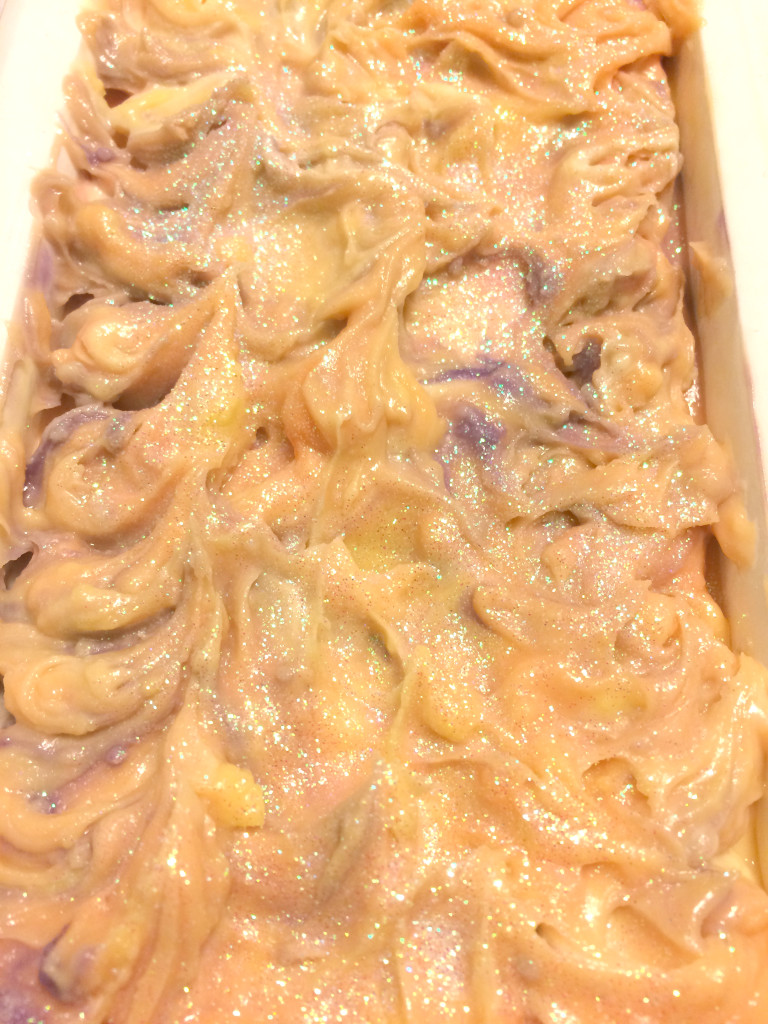 The next day, I cut the soap. Given how it set up, I was happy with how it turned out.
It doesn't look precisely like a sunset. It reminds me more of an impressionist painting of a sunset. Perhaps you can see the glycerine rivers in the titanium dioxide. I think sometimes this look suits better than a solid white, and in this case, I'm happy they happened. They look a little bit more like wispy clouds than they might otherwise have done.
If I were to do this soap again, same colors and all, I might try to use a spoon to create the same effect, as the squeeze bottles proved difficult to use, especially by the end. Truth be told, I'm not a huge fan of using squeeze bottles in soap designs because they are terribly difficult to clean. I thought they might be faster than using a spoon, but I'm not so sure. I took about two hours to make this soap from start to clean-up. It wouldn't look exactly the same if I had used a spoon.
On a less complicated note, when a wholesale customer of mine asked for Green Tea & Cucumber, it seemed like a no-brainer to create a soap with a subtle green hue, much the same shade as cucumber flesh. How to get that hue, however? Chromium green oxide might have been a good choice, but it tends toward a moss hue. I wasn't sure I wanted to use a mica either, as they tend to be more vibrant, and I needed something subtle. Hydrated chromium green oxide is not quite as dark as chromium green oxide, and it has a teal note to it that I thought might work well. The trick is to use just a scant amount. I think I may have used less than 1/8 teaspoon to color this whole batch.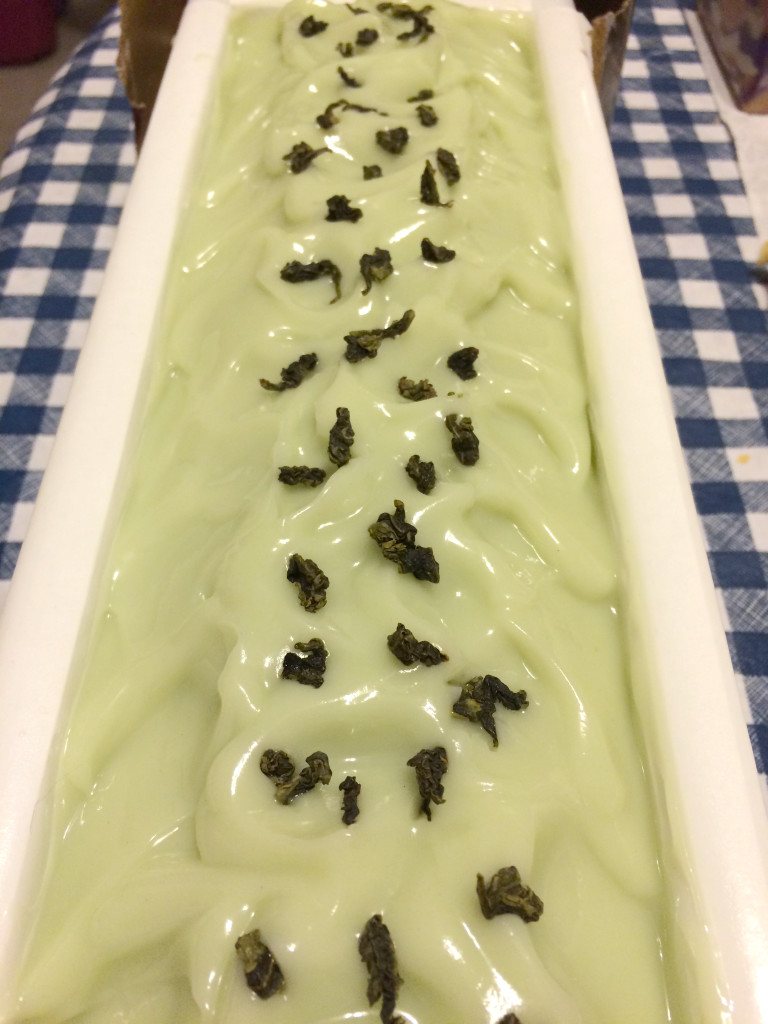 The pureed cucumber in this recipe may also have contributed to the green shade, but it's mostly the hydrated chromium green oxide because cucumber alone (unless you include the peel) will not result in even this much color. The leaves on top are Chinese green tea leaves—the green tea was a gift from one of my Chinese students. I didn't think she'd mind if I sacrificed a little bit of the tea for soap. This one hasn't gelled yet, so I'm not sure what the final color will be, but I don't think it will stray much from this light, cool green. If anything, it might pick up some yellowish undertones, similar to the color of green tea. It's exactly the shade of green I wanted, and it complements the fresh green scent of of the Green Tea & Cucumber fragrance oil I used:
This fragrance smells just like freshly steeped green tea with a hint of cucumber. It isn't your typical sweet cucumber fragrance. The earthy green tea is the most upfront aroma in this fragrance oil giving cosmetic products a fresh and clean scent.
The beautiful thing about soap is that you can use whatever fragrances and scents you want, and you can match colors with fragrances, or you can use whatever colors you want with fragrances.
What do you do? Do you try to match colors with scents? If you have tips, feel free to share in the comments.